Today, the world of soundbars is multi-faceted and geared toward different user audiences. This is because more and more people have the opportunity and want to improve their experience of watching movies or listening to music. In this review, I will introduce the best soundbars for hearing impaired. These devices are equipped with technology that promotes dialogue and voice clarity, helping hearing-impaired people comprehend the sound better. Some manufacturers also produce bars with multiple built-in speakers or external wireless speakers to enhance the sound. So, what soundbars are more suitable for people who are hard of hearing? Let's take a closer look at them.
Our pick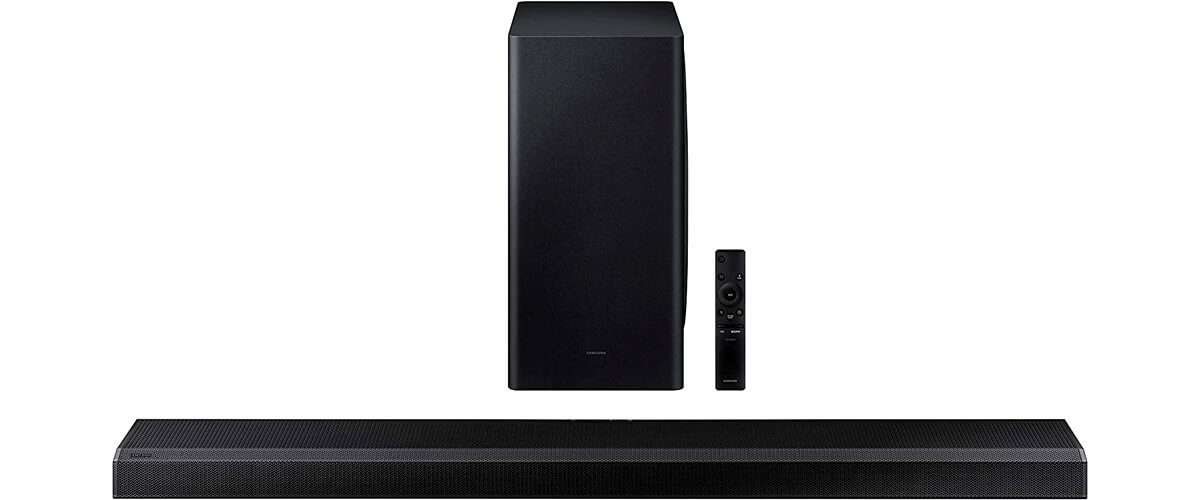 Samsung Q800A
Best soundbar for hearing impaired
The HW-Q800A is a 3.1.2-channels soundbar with Dolby Atmos and DTS:X, which combine to deliver a 3D home theater audio experience.
Read the full review
.
Soundbar for hearing impaired comparison table
Name
Built-in channels
Amplification type
Separate speaker connections
Wi-Fi/Bluetooth
Review
Samsung Q800A

best overall

3.1.2
active
yes
yes/no
Review
VIZIO M512a-H6

also great

5.1.2
active
yes
yes/yes
Review
Bose TV Speaker

budget option

3.0
active
yes
yes/yes
Review
Needs of the hearing impaired
Living with hearing loss can be challenging, from struggling to catch every word in a conversation to missing out on those subtle yet crucial sound details. But don't worry, sound bars are a true game-changer for those with hearing impairment. These devices are both stylish and simple to set up, and they are purpose-built to improve dialogue clarity and boost even the most delicate sounds that you might have been missing. With these accessories, you can finally enjoy your entertainment like never before.
Key features to look for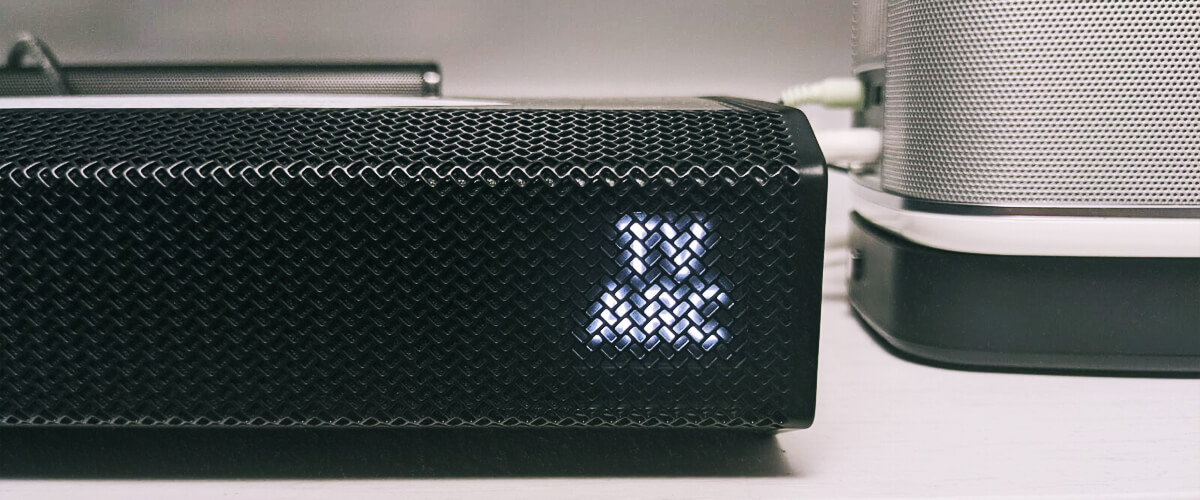 When selecting a soundbar for those with hearing loss, you want to ensure you're getting the most optimal auditory experience. Here are the key features to keep in mind:
Technology to improve clear dialogue: Look for soundbars with advanced technology like speech enhancement or voice clarity modes. These features amplify dialogue frequencies, making voices crisp and clear, even in noisy scenes.
Adjusting sound and equalizer settings: The ability to fine-tune sound settings is essential. Opt for models that offer customizable equalizer presets so you can tailor the audio to your specific hearing needs.
Bluetooth connection for personal audio devices: Bluetooth connectivity lets you stream audio directly from your smartphone or hearing aids. This ensures a seamless and personalized listening experience.
Remote control and accessibility features: Choose a soundbar with an accessible remote control, preferably one with larger buttons or voice control options. Some models also come with smartphone apps for easy adjustment.
Best soundbars for hearing impaired reviews
Samsung HW-Q800A is a versatile soundbar from the 2021 lineup. This model came to replace the HW-Q800T. It retains the previous model's design yet gains a few more things you will appreciate having in your audio system. The soundbar is a 3.1.2-channel setup with a wireless 8-inch sub. But how does it sound, and what features make it superior to the previous Samsung products? That's the topic of my Samsung Q800A review.
Build and design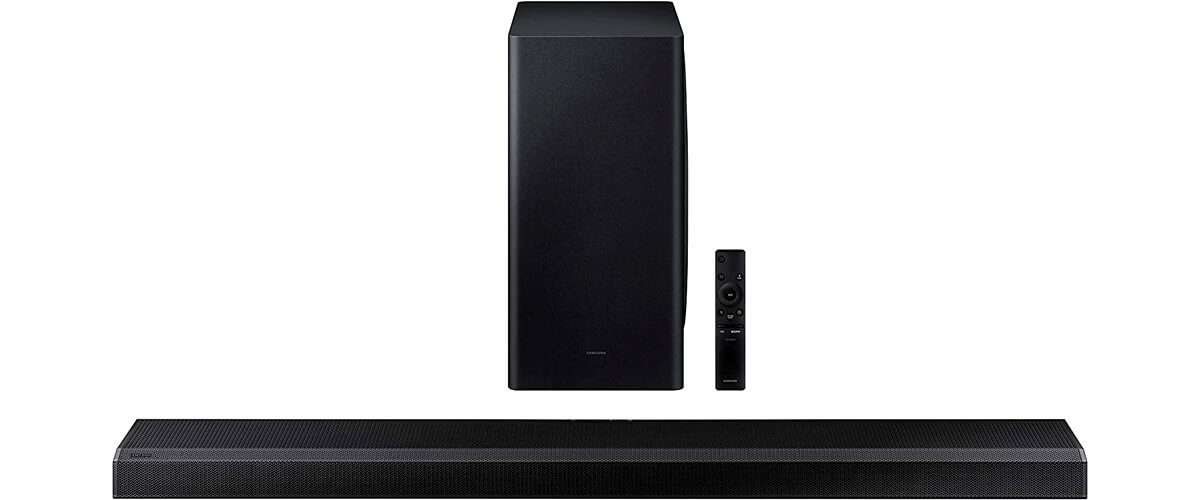 To build the Q800A, Samsung used the same case as the last year's model. This soundbar has a low-factor design with an angled front. The metal grille covers the top and front of the bar, while other parts are made of hard plastic.
The soundbar measures 38.6 x 2.4 x 4.5 inches and weighs 29.5 lbs. It will hardly fit between the legs of a 55-inch TV since it is pretty wide. Though you can place it in front of your TV without blocking the view as the bar is not very tall. You will find an alphanumeric display on the right front side that provides basic information on the setup, volume, sound mode, or selected inputs. Touch-sensitive controls are also on the top of the soundbar to adjust the volume, change inputs, turn on/off the mic, enable Alexa, and more.
As for the subwoofer, it is 8.3 x 15.9 x 15.9 inches and 21.6 lbs. It is made of wood, though the front part is covered with fabric.
Setup and connectivity
The Q800A soundbar is equipped with an HDMI output (eARC) and one HDMI input, allowing you to receive uncompressed Dolby Atmos signals from all connected devices. This model also supports Dolby Digital and DTS content over an optical port, though it lacks a 3.5mm AUX port.
For a wireless connection, you can use Wi-Fi and Bluetooth. You can't stream audio over Chromecast built-in, though the Airplay 2 is enabled to transmit signals directly from your Apple gadgets. While there are no built-in Spotify or other audio streaming services, you can use a SmartThings app with many opportunities for bringing audio from your phone to the soundbar. Is it convenient? Absolutely!
When you hook up all the devices, you may need to experiment a little to get the desired performance. An SPL meter and test tones will come in handy here. Unfortunately, you can't adjust the left and right levels separately, which may be a problem for asymmetric rooms. The SpaceFit Sound Auto optimization feature is great as it calibrates sound to fit your space, but it is available only with Samsung TVs.
Features and specs
With Dolby Atmos and DTS:X immersive audio, the Samsung HW-Q800A soundbar delivers realistic effects as you watch movies or play games. You can achieve a more immersive experience in the Game Pro Mode as the device will level up 3D audio with the on-screen action. The Samsung Acoustic Beam technology does a good thing at mixing and delivering sound exactly from where it happens on the screen. Once you use the Active Voice Amplifier, you will hear every line from the dialog more clearly, even if it is a whisper. The dynamic adaptive sound eliminates the need to adjust the volume as you watch content - this technology will regulate the output for every scene. To customize the sound profiles without much hassle, you can use EQ presets and modes like Standard, Surround, Adaptive Sound, and Game Pro. These features of this model certainly distinguish it from many other analogs.
The HW-Q800A is ready to hear your commands. Use Alexa for hands-free control over playing music, asking about the weather, and more.
Some Q800A features are centered around the Samsung TV. For example, the SpaceFit Sound technology will automatically balance the sound for a room-filling experience. There is also a Q-Symphony feature to synchronize audio for a harmonious experience as you listen to the music.
Listening experience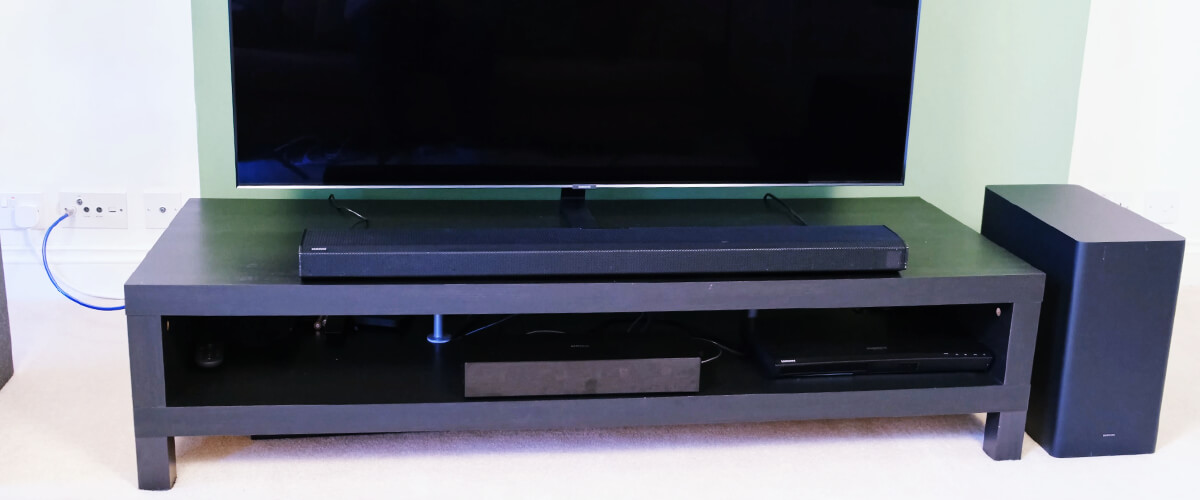 The Samsung HW-Q800A is an average 3.1.2 configuration that delivers stable performance without a jaw-dropping effect. It is still better than a mono soundbar or built-in TV speakers, but nothing more.
This system creates a wide sound at the front of the room rather than above or behind you, depending on the scene. So, the surround performance is not as good as it could be. The soundbar uses two up-firing speakers to recreate the effect of height, but it doesn't sound as realistic as discrete localization delivered by home theater setups. To eliminate this issue, Samsung offers wireless speakers with upward-firing drivers.
I think this soundbar model is good for music. It delivers a balanced soundstage with thumpy bass. In terms of stereo dynamics, Samsung HW-Q800A gets loud, which makes it suitable for large rooms. Though you may notice some treble and bass ranges on max volume, they are certainly not critical.
Key specs
Built-in channels: 3.1.2.
Amplification type: active.
Output power, W: 115.
Separate speaker connections: yes.
Wi-Fi/Bluetooth: yes/yes.
Multichannel surround: Dolby Atmos, DTS:X.
With Samsung Q800A, it is so much easier for people with impaired hearing to watch TV. Such features as SpaceFit Sound, Active Voice Amplifier, and several sound modes make it the best soundbar for hearing impaired. As a result, speech becomes more pronounced and easier to grasp. The soundbar can get as loud as you want, too. One more pleasant bonus – a voice assistant allows for easier sound control. It's the optimal option for the hearing impaired.
VIZIO M512a-H6 – also great
The VIZIO M512a-H6 soundbar is a 5.1.2 setup that entered the market in 2021. It is a surround system made up of the main soundbar, two wired rear satellites, and a subwoofer. It inherited some of the high-end features from Vizio Elevate, premium speakers, yet remained on the affordable side of the price spectrum. I know that this sounds a bit vague, so in this VIZIO M512a-H6 review I am going to extend upon the performance of this soundbar. All information in this review is based on my personal experience.
Build and design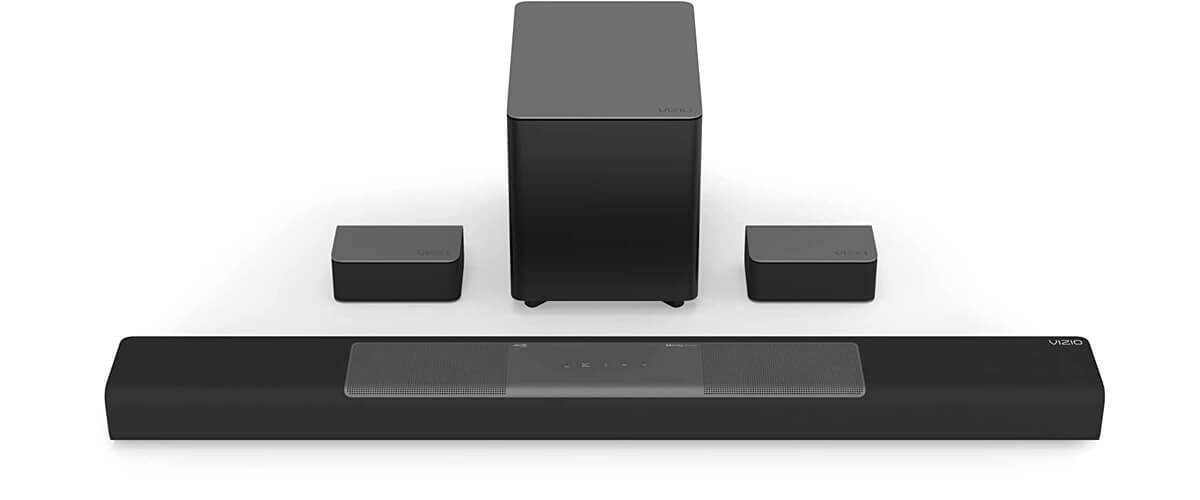 The soundbar is pretty much the same as other similar devices - it is 40 inches wide and 2.68 inches high. The satellites are 5.71 x 2.24 x 3.54 inches, while the sub measures 8.30 x 9.92 x 11.69 inches.
The main grille of the soundbar is made of fabric. It hides three sets of mid-drivers and tweeters. Another grille covering up-firing drivers is made of perforated plastic. Up-firing drivers are placed toward the center of the soundbar, which is hardly the perfect location. Nevertheless, they do a great job of filling the room with 3D surround sound by projecting audio signals off the ceiling.
There are 11 speakers in the VIZIO M512a-H6 sound system in total. Every speaker has its own woofers and tweeters for gaining fidelity across the whole sound spectrum.
You will find controls on the top of the VIZIO 5.1 2 soundbar. The number of controls is rather limited and includes power, volume, input, and Bluetooth. That's why you may want to consider using a remote control, which features a backlit screen that shows setup options.
Setup and connectivity
VIZIO M512a-H6 offers four different types of physical connectivity. On the back left side of the soundbar, you will find an HDMI in/out with eARC. There is also an optical digital audio connection and a USB port in this model. Additionally, as you look at the back right side, you'll see a standard 3.5 mm input along with an Aux VA input to hook a voice-enabled speaker. For a wireless connection, you are free to use Bluetooth. It's a pity that Wi-Fi connectivity is absent here and you lose an opportunity to use a Chromecast system.
Connecting VIZIO M512a-H6 to the TV is fairly simple. Just plug the soundbar into the TV using an HDMI, and you are all set. The wireless sub gets easily paired with a soundbar. Though note that you will need to connect speakers to the subwoofer with provided wires.
While there is nothing complicated in physically connecting all the devices, the real work begins when you adjust the sound to please your ears. The lack of calibration is not that critical, but it means that you've got to adjust driver levels manually. To get the most out of VIZIO M512a-H6, you can optimize the settings of the center channel, speakers, sub, and height channels.
Features and specs
The most prominent feature of VIZIO M Series M512a-H6 is the support for Dolby Atmos and DTS:X. Thanks to this, the sound is realistic and multi-dimensional.
As I already said, M512a-H6 has preset EQ modes to optimize gaming, music, movies, or TV content. Additionally, you can customize all the audio settings for a perfect sound every time using a remote. A dual stereo mode will shake your house. It distributes a stereo signal across all 11 high-performance speakers, elevating audio for maximum impact.
This soundbar doesn't have built-in voice assistant support, but there is an Aux VA input for letting you connect your voice assistant speaker. Or you can pair your devices via Bluetooth.
Listening experience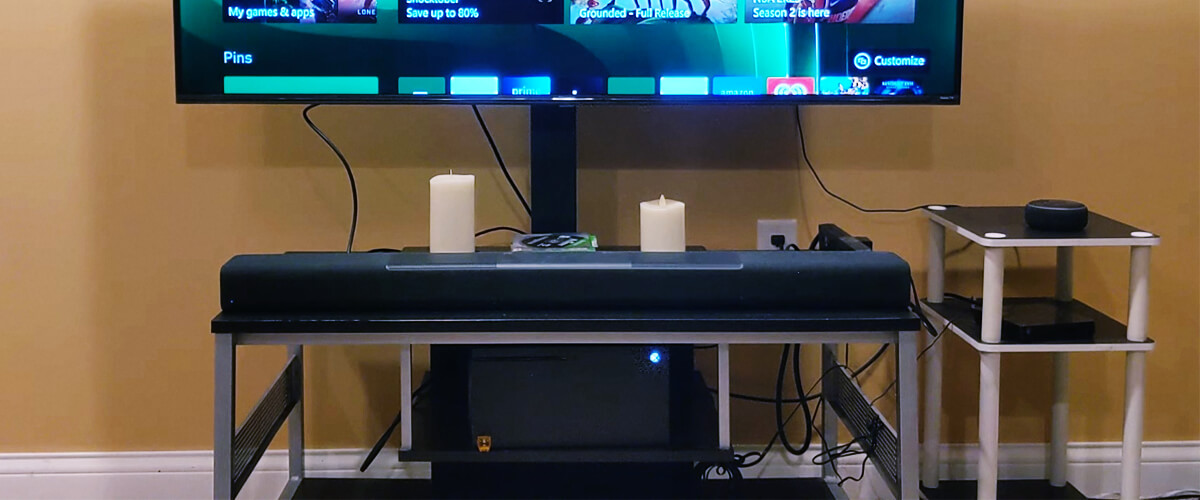 Here is my honest verdict - Vizio M512a-H6 is not as immersive as higher-end Dolby Atmos soundbars. But giving the credit to the price, I didn't expect much from this product. And that's natural.
What I want to stress is the amount of bass the wireless subwoofer delivers. It is space-shaking, yet it harmoniously integrates into the whole soundstage. When listening to music, the lows, mids, and highs are fine. The vocals and instruments sound bright and clear.
In movies, you can grasp every note of the bassline. The surround speakers give extended dimension and better immersion - I bet I heard how bullet casings fell to the floor with a more defined tinkle. Yet, this model doesn't reproduce the level of height you will find in more sophisticated soundbars.
The voice preset would have become a significant improvement to Vizio M512a-H6. It lacks this mode, in my opinion. I did not get enough clarity in some hard-to-decipher dialogs, so crisper and clearer voices will only improve the overall TV-watching experience with this soundbar set.
Key specs
Built-in channels: 5.1.2.
Amplification type: active.
Output power, W: N/A.
Separate speaker connections: yes.
Wi-Fi/Bluetooth: no/yes.
Multichannel surround: Dolby Atmos, DTS:X.
With VIZIO M512a-H6, you can ensure an inclusive TV-watching experience for everyone. This is a TV soundbar for hearing impaired because it has two surround speakers and a subwoofer, which dramatically improves sound quality. In addition, the model supports Dolby Atmos, and the surround sound will definitely enhance your viewing experience.
Bose TV Speaker – budget option
In this Bose TV soundbar review, I will tell you about this relatively simple plug-in speaker. In addition to good sound quality, this device is easy to set up and integrate into your home theater system.
This model was introduced in 2020. It may lack more advanced features you will find in Bose's premium offerings, but what it has is more than enough for upgrading your TV's audio to a decent 2-channel stereo. So, take a few minutes to see if this soundbar would be a good choice for you or whether you need to look for another option.
Build and design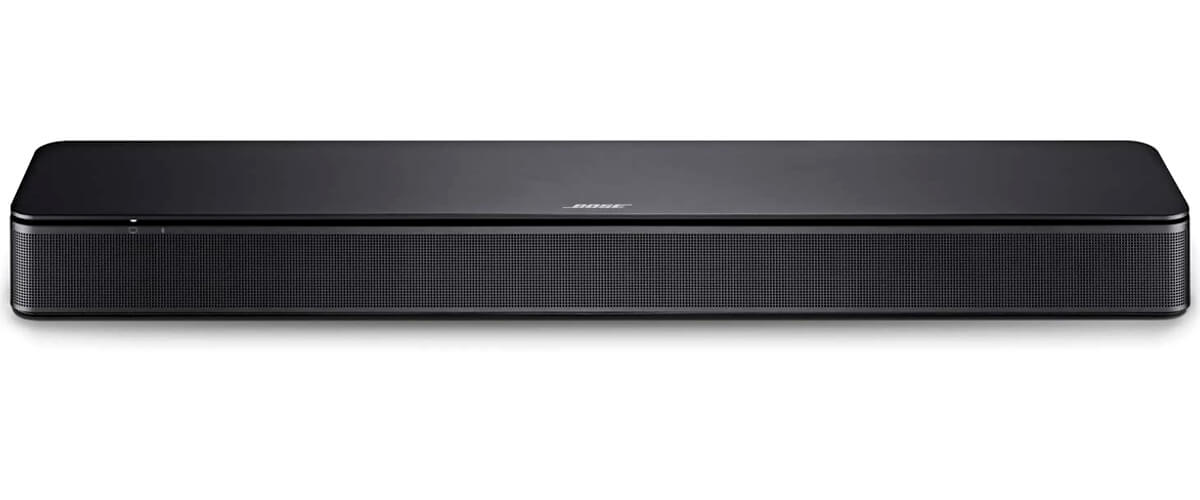 If you are a fan of minimalistic design concepts, you will love the Bose TV speaker. Thanks to a smooth top surface and perforated metal grille, it has a classy vibe. In addition, the casing is made of matte-black plastic, which gives the speaker a restrained yet quite sophisticated look.
As for the size, this soundbar is remarkably small. It measures 2.2 x 23.4 x 4 inches and weighs 4.3 lbs, so it easily fits between the legs of a 55-inch TV to save space. The device has an optimal height, so it won't obscure your TV.
Setup and connectivity
Setting up this soundbar won't be a hassle at all. First, you hook the speaker to the TV via the optical cable or your own HDMI. Then, you plug the speaker into the power outlet, and that's all. After that, the device is ready to use.
As for the availability of ports, you will find HDMI ARC, optical, and AUX inputs. There is a USB port, but it is used for service only. If you want to experience more bass, there is a wired bass module.
You can use one of these ports without the need to manually pick the corresponding input in the settings. However, the good news is that you can employ more than one port to connect different audio devices. The system will detect the first active one and set it as a default input.
If you want to do away with cords, you are free to use Bluetooth. Or you can utilize it as an additional device for other Bose speakers using the Bose Music app.
This soundbar seamlessly works with Roku TV over HDMI. The setup is fairly simple. It's also great that the speaker is compatible with the Roku TV remote.
Features and specs
The Bose television soundbar is a fairly simple device that handles basic tasks well and will not overload you with advanced functionality that you may not need. Nevertheless, this is what makes this speaker easy to use and keeps its price.
With the 36W peak power and 50/60Hz frequency response, you will obtain a rich sound when watching a movie, listening to music, or playing a video game. If you want to get more bass, just hit the Bass button on the remote.
The Dialogue feature is really handy. As you turn it on, the speaker will analyze your watching content. Then, it will elevate vocals to let you hear more clearly and deliver enhanced speech and pronunciation. This capability is especially helpful for podcasts or TV shows.
Unfortunately, there is no Bose app to control the TV speaker. All the configurations are made with the remote. It isn't backlit, but the volume and mute buttons are easy to identify, even in the dark. With the remote, you can activate the Bluetooth mode for pairing the soundbar with other devices, adjust the amount of bass, or switch to a Dialogue mode.
Listening experience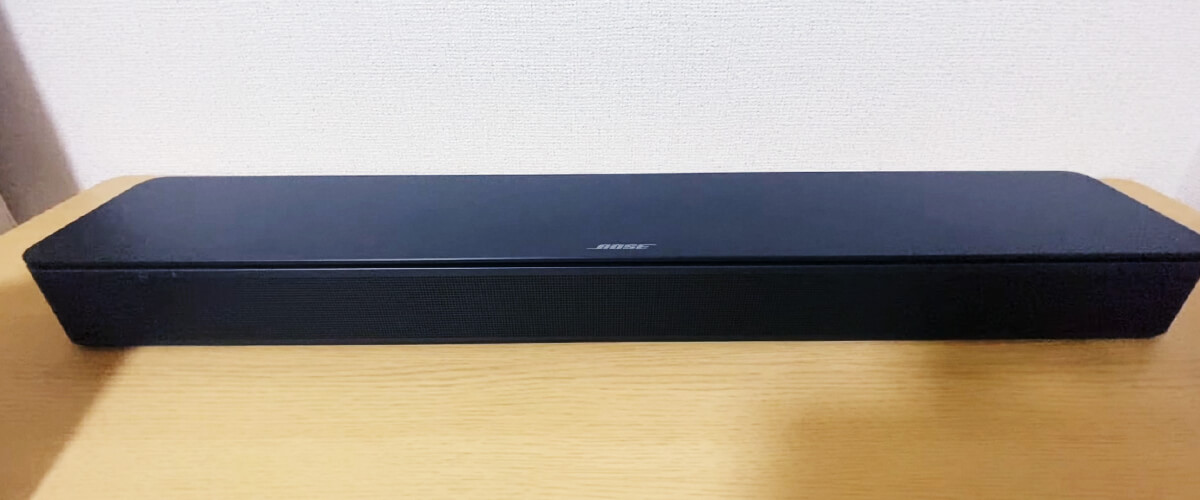 Considering the size of the Bose TV Speaker, you do not expect much from it. But I was really surprised by what it delivers. At its full sound breadth, it can fill up an average living room with a rich sound. However, it may not be enough for a larger or open space. Yet some thumping and compression artifacts are present at the highest volume, especially in the bass range.
The stereo soundstage performance is just fine. It doesn't sound much focused, so movie sound effects are perceived as coming from diffused areas rather than a specific, accurate location.
As for the music, the speaker has a decent frequency response. It is balanced, especially in the mids. The bass is extremely rich, so the default settings are enough for an average listening experience. If you want more, you go to the Bass mode and get a touch of the extra boom. Though, it is better to add a separate sub if you listen to bass-heavy genres for advanced bass reproduction.
Key specs
Built-in channels: 3.0.
Amplification type: active.
Output power, W: 100.
Separate speaker connections: yes.
Wi-Fi/Bluetooth: yes/yes.
Multichannel surround: Dolby Atmos.
The Bose TV Speaker is the best soundbar for hard of hearing from the budget segment. It is compact and has a simple design, but it will fill your living space with a powerful sound that is graspable even by hard-of-hearing people. In addition, the device clarifies and elevates the vocals and voices to help hear speech much better than with any other soundbar.
Polk Audio Signa S3
Have you ever wondered what you can get from the 2.1 soundbars? Then, make it to the end of my Polk Audio Signa S3 review to check the features of this device and learn whether it provides the necessary capabilities to meet your needs.
It is not the newest product from the lineup. S4 is now available on the market, yet S3 remains a preferred choice for people on a budget seeking a punchier movie-watching experience. So let's see what makes it a worthy option.
Build and design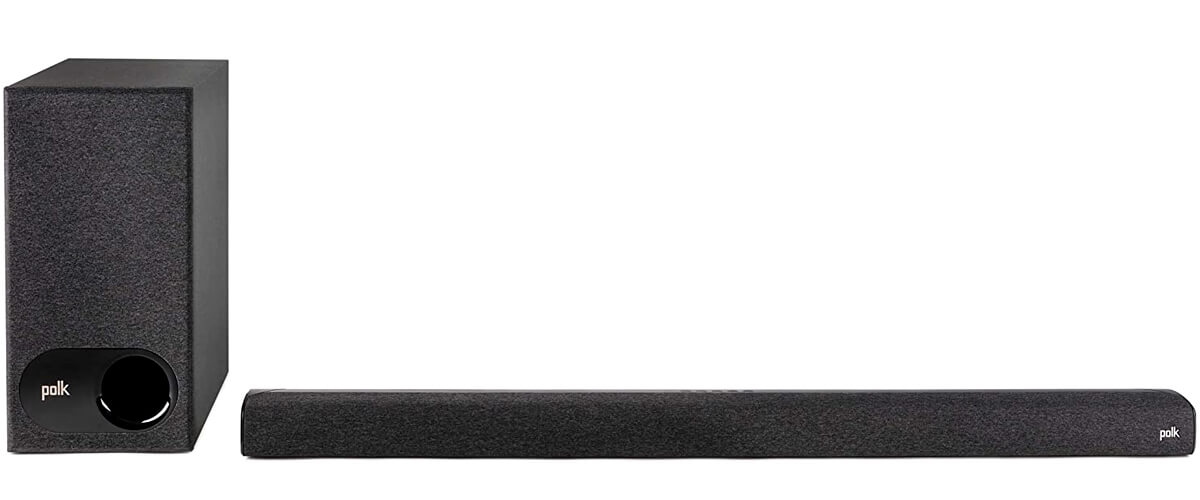 As you look at Polk Audio Signa S3, you will immediately notice that it was inspired by the previous models. Its design is similar to S1 and S2; only S3 looks sleeker and nicer. Its wool-like grille is thick but still prone to tearing or ripping. In these terms, metal grilles are more reliable. The casing is made of plastic, which doesn't feel cheap. Internally, two front-firing midrange drivers and two front-firing tweeters are hidden under the soundbar body.
The bar measures 2.15 x 35.43 x 3.22 inches, so it will hardly fit between the TV legs. Therefore, it is rather designed to sit in front of your TV without blocking the screen. The sub is moderately-sized - 13.4 x 6.72 x 12.2 inches. Its front part also features mesh covering, while the housing is made of wood.
Basic controls on the top of the bar allow you to select the source, pair devices via Bluetooth, regulate the volume, and power the soundbar on/off. Instead of the screen, you will find a few lights that change depending on the operating mode.
Setup and connectivity
Polk Signa S3 is pretty basic in terms of connectivity. There is a single HDMI port with ARC. You will also find an analog 3.5mm Mini-Jack (AUX) and optical audio inputs.
Wireless connectivity options are also available. You may use Bluetooth or Wi-Fi. I was pleased that Polk Signa S3 supports Chromecast. This way, you can stream content directly from your favorite services like Spotify, Amazon Music HD, YouTube Music, Google Play Music, Tidal, Pandora, and more.
This model has no auto-tuning functions. Thus, you will have to play with the settings for a while to get the desired sound effects. There is a Voice Adjust technology that regulates the dialog level, but, in my opinion, it does little to help you set up the entire soundstage and audio reproduction.
Features and specs
First of all, I would like to point out that S3 lacks Dolby Atmos decoding, which is a privilege of higher-end soundbars. But you can still get decent sound quality with Movie and Music. There's also a Night mode where you can dim loud effects so as not to disturb your loved ones or neighbors. But there's a not-so-nice thing about the modes. I find switching between them somewhat confusing. As there is only a single LED indicator that runs pink for all the modes, there is no way for you to know what mode is on unless you switch it.
Signa S3 soundbar works with Google Assistant to let you use your voice to control music. You can ask the assistant to play, pause, or adjust the volume. Using the Google Home app, you can pair this bar with other Chromecast-enabled speakers to transmit audio signals across your home. And this is really useful and convenient!
Listening experience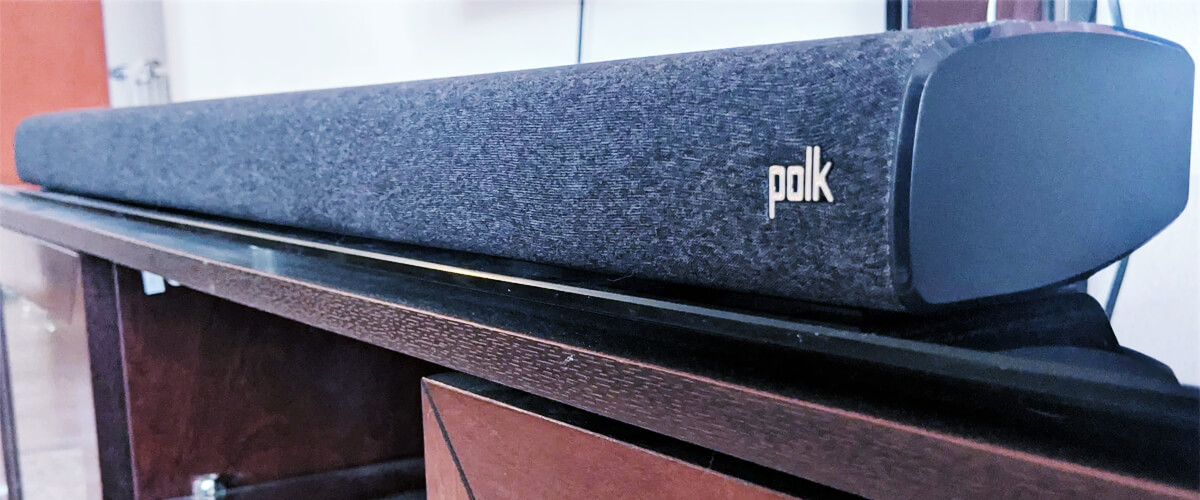 It is a basic soundbar setup that doesn't support Dolby Atmos or DTS:X audio reproduction. Therefore, do not expect to be surrounded by sound from all dimensions. So, the sound of the helicopter flying overhead will be perceived from the front rather than above. This may make your watching experience less engaging. In movies or TV shows, you hear dialog clearly. You can also use the Voice Adjust function to enhance the details of the dialogs.
When reproducing music, there is no consistency in how this bar sounds. In one track, it is too boomy. In another - it is bright. The bass is okay but not powerful enough for a good rumble. I do not recommend using Polk Audio Signa S3 in the loudest volume settings. Otherwise, you will notice compression artifacts that interfere with your listening experience.
Key specs
Built-in channels: 5.1.
Amplification type: active.
Output power, W: 40.
Separate speaker connections: yes.
Wi-Fi/Bluetooth: yes/yes.
Multichannel surround: Dolby Atmos.
The Polk Audio Signa S3's sound stands out significantly from other common soundbars. It makes voices sharp and clear, which is great for hearing-impaired TV fans. To achieve an even greater experience, I recommend you pair this bar with a wireless speaker to spread the sound throughout the room.
Common misconceptions related to soundbars for the hearing impaired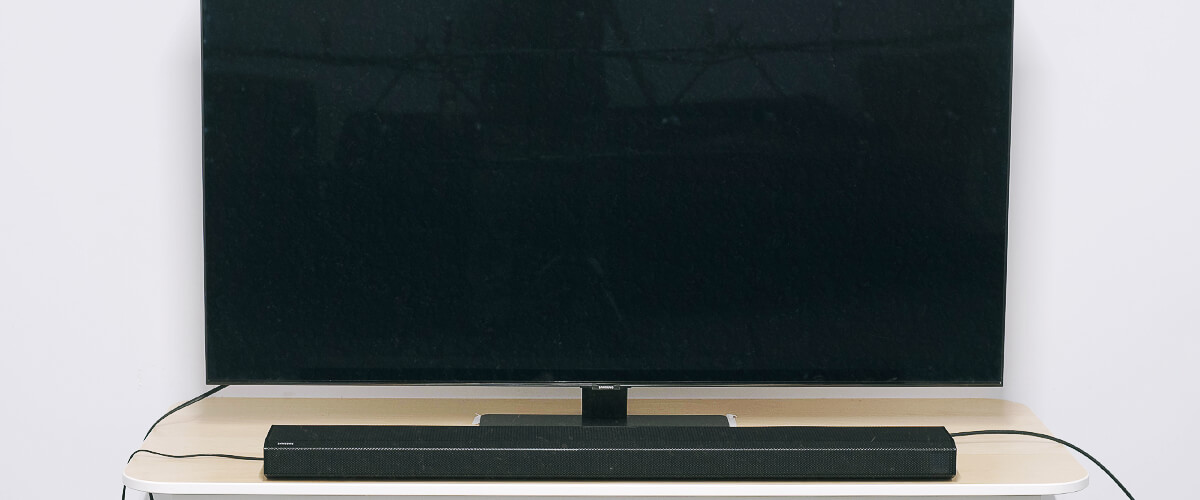 Let me clear up some common misconceptions about using soundbars to enhance your viewing experience.
Hearing aids alone can solve the problem
Although hearing aids are necessary for managing hearing loss, they may not provide the best audio quality for television. They're just not designed for it. In turn, the soundbars can drastically enhance sound clarity, even for hearing aid users.
Soundbars are expensive and out of reach
Don't be discouraged by the idea that soundbars are too costly. There are many available options, including budget-friendly models, that can make a substantial difference in sound clarity. You can easily find an affordable product.
Hearing-impaired individuals must always use headphones
Wireless headphones offer a personalized listening experience, but they're not your only option. Soundbars enable audio sharing, allowing you to watch TV with family and friends comfortably. You don't have to isolate yourself with headphones.
Soundbars are noisy and disturbing to others
Soundbars are designed to provide clear sound without cranking up the volume to disruptive levels. Many models even offer features like night mode to reduce loud noises late at night, ensuring a pleasant viewing experience for everyone.
FAQ
Do soundbars help the hearing impaired?
In many cases, soundbars help hearing-impaired people enjoy TV and grasp sound. To achieve this, soundbars have a sound clarity technology that makes sounds crisper and clearer. In particular, this refers to the clear voice technology that optimizes dialogues. Also, these devices should have a center channel speaker that ensures all the dialogues go forward, while the left and right speakers deliver sound effects and background music. For an advanced experience, you can buy a setup with wireless speakers for the hard of hearing (or assemble one on your own) to target the sound to a specific area.
How can I improve my TV sound for the hearing impaired?
The surest way to improve TV sound is to opt for a soundbar setup. TV speakers are usually not powerful enough to give the desired output without sacrificing sound quality. When you tune your TV to a high volume level, you may notice distortion or a peculiar crackling sound, which is far from being a melody to our ears.
How do I make dialogue louder on my TV?
You can go to the settings and find a corresponding tab – Clear Voice or Speech mode. This may be an insignificant improvement to how dialogue sounds. But to make the dialogues louder, clearer, and more distinct, it is better to consider buying a
soundbar
.