They say you can't find a great soundbar without spending a fortune on it. But the truth is you can take the audio output of your TV set to a new level, even with $400 in your pocket. If you do not believe in this, stick with me, and I will prove this point of view.
In this review, I will give you a better idea of what to expect from devices within this price range. You will also get the list of the best soundbars under $400 — so you'll know which products to look at and make the right choice.
Our pick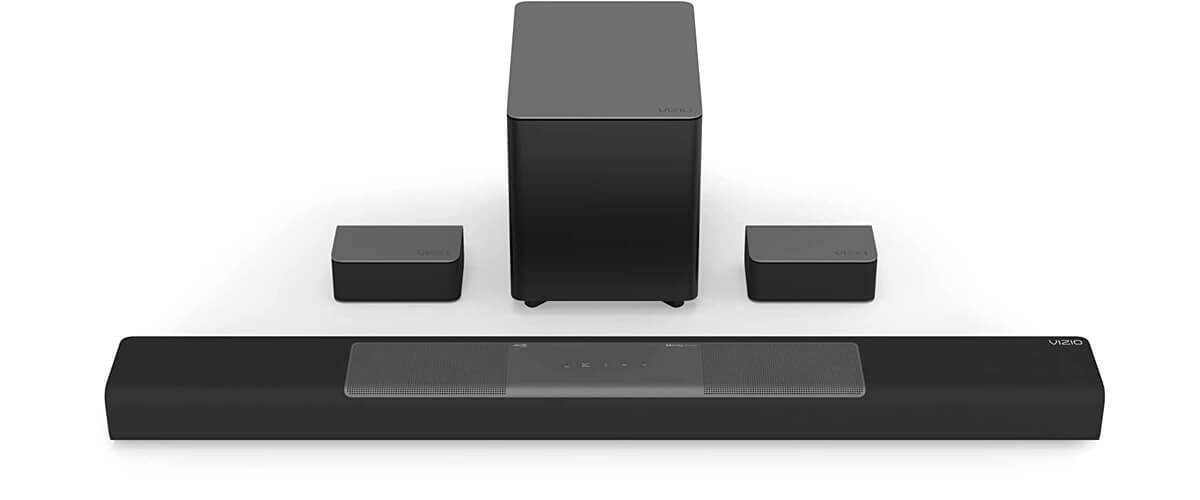 VIZIO M512a-H6
Best soundbar under $400
VIZIO M-Series 5.1.2 is a home theater sound bar that brings your experience to next-level audio from above with dedicated upward-firing speakers, Dolby Atmos, and DTS: X.
Read the full review
.
Soundbars under $400 comparison table
Name
Built-in channels
Amplification type
Separate speaker connections
Wi-Fi/Bluetooth
Review
VIZIO M512a-H6

best overall

5.1.2
active
yes
no/yes
Review
Samsung HW-B650

also great

3.1
active
yes
no/yes
Review
Bose TV Speaker

budget option

3.0
active
yes
yes/yes
Review
Sonos Beam Gen 2

compact option

5.1
active
no
yes/no
Review
The way I tested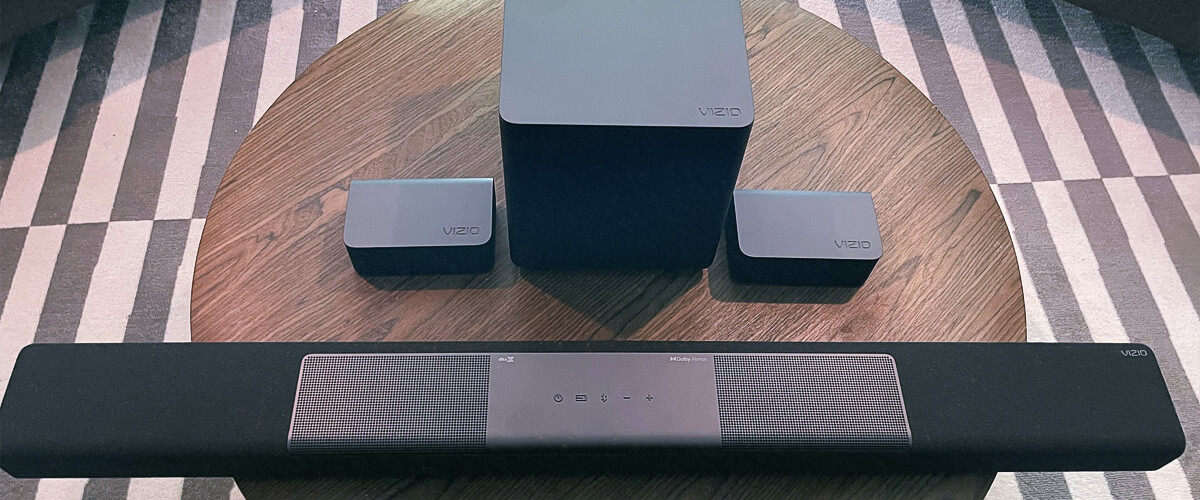 Firstly, I made sure to set up my testing environment in a room with minimal acoustic interference, which happened to be my cozy living room. Next, I delved into examining the build quality, design, and materials used in each soundbar. A well-crafted soundbar not only looks great but also tends to perform better and last longer.
Now, onto the exciting part – evaluating the sound quality! I tested these soundbars across various types of audio, including movies with plenty of dialogue and music of diverse genres. Here's what I focused on:
Bass response: I cranked up action-packed movie scenes and music with heavy beats to test the depth and punch of the bass. It's crucial for that immersive experience.
Mids and trebles: For those subtle nuances and crystal-clear voices, I evaluated how each soundbar reproduced mid and high-frequency sounds, ensuring detail and accuracy.
Dynamic range: I put the soundbars through their paces by checking how well they handled both the quiet and loud audio parts. This dynamic range is vital for an impressive audio performance.
Best soundbar under $400 reviews
The VIZIO M512a-H6 soundbar is a 5.1.2 setup that entered the market in 2021. It is a surround system made up of the main soundbar, two wired rear satellites, and a subwoofer. It inherited some of the high-end features from Vizio Elevate, premium speakers, yet remained on the affordable side of the price spectrum. I know that this sounds a bit vague, so in this VIZIO M512a-H6 review I am going to extend upon the performance of this soundbar. All information in this review is based on my personal experience.
Build and design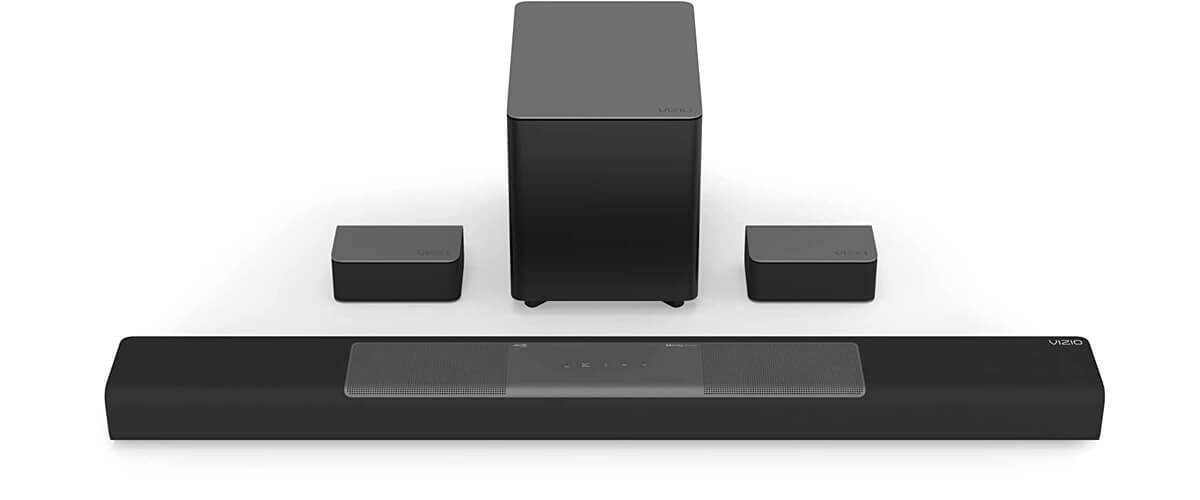 The soundbar is pretty much the same as other similar devices - it is 40 inches wide and 2.68 inches high. The satellites are 5.71 x 2.24 x 3.54 inches, while the sub measures 8.30 x 9.92 x 11.69 inches.
The main grille of the soundbar is made of fabric. It hides three sets of mid-drivers and tweeters. Another grille covering up-firing drivers is made of perforated plastic. Up-firing drivers are placed toward the center of the soundbar, which is hardly the perfect location. Nevertheless, they do a great job of filling the room with 3D surround sound by projecting audio signals off the ceiling.
There are 11 speakers in the VIZIO M512a-H6 sound system in total. Every speaker has its own woofers and tweeters for gaining fidelity across the whole sound spectrum.
You will find controls on the top of the VIZIO 5.1 2 soundbar. The number of controls is rather limited and includes power, volume, input, and Bluetooth. That's why you may want to consider using a remote control, which features a backlit screen that shows setup options.
Setup and connectivity
VIZIO M512a-H6 offers four different types of physical connectivity. On the back left side of the soundbar, you will find an HDMI in/out with eARC. There is also an optical digital audio connection and a USB port in this model. Additionally, as you look at the back right side, you'll see a standard 3.5 mm input along with an Aux VA input to hook a voice-enabled speaker. For a wireless connection, you are free to use Bluetooth. It's a pity that Wi-Fi connectivity is absent here and you lose an opportunity to use a Chromecast system.
Connecting VIZIO M512a-H6 to the TV is fairly simple. Just plug the soundbar into the TV using an HDMI, and you are all set. The wireless sub gets easily paired with a soundbar. Though note that you will need to connect speakers to the subwoofer with provided wires.
While there is nothing complicated in physically connecting all the devices, the real work begins when you adjust the sound to please your ears. The lack of calibration is not that critical, but it means that you've got to adjust driver levels manually. To get the most out of VIZIO M512a-H6, you can optimize the settings of the center channel, speakers, sub, and height channels.
Features and specs
The most prominent feature of VIZIO M Series M512a-H6 is the support for Dolby Atmos and DTS:X. Thanks to this, the sound is realistic and multi-dimensional.
As I already said, M512a-H6 has preset EQ modes to optimize gaming, music, movies, or TV content. Additionally, you can customize all the audio settings for a perfect sound every time using a remote. A dual stereo mode will shake your house. It distributes a stereo signal across all 11 high-performance speakers, elevating audio for maximum impact.
This soundbar doesn't have built-in voice assistant support, but there is an Aux VA input for letting you connect your voice assistant speaker. Or you can pair your devices via Bluetooth.
Listening experience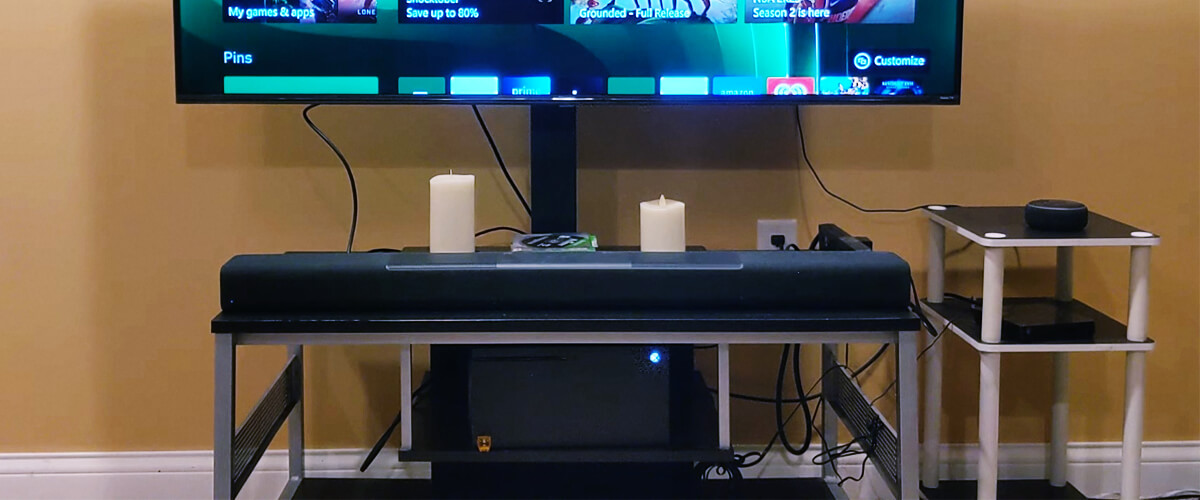 Here is my honest verdict - Vizio M512a-H6 is not as immersive as higher-end Dolby Atmos soundbars. But giving the credit to the price, I didn't expect much from this product. And that's natural.
What I want to stress is the amount of bass the wireless subwoofer delivers. It is space-shaking, yet it harmoniously integrates into the whole soundstage. When listening to music, the lows, mids, and highs are fine. The vocals and instruments sound bright and clear.
In movies, you can grasp every note of the bassline. The surround speakers give extended dimension and better immersion - I bet I heard how bullet casings fell to the floor with a more defined tinkle. Yet, this model doesn't reproduce the level of height you will find in more sophisticated soundbars.
The voice preset would have become a significant improvement to Vizio M512a-H6. It lacks this mode, in my opinion. I did not get enough clarity in some hard-to-decipher dialogs, so crisper and clearer voices will only improve the overall TV-watching experience with this soundbar set.
Key specs
Built-in channels: 5.1.2.
Amplification type: active.
Output power, W: N/A.
Separate speaker connections: yes.
Wi-Fi/Bluetooth: no/yes.
Multichannel surround: Dolby Atmos, DTS:X.
With the VIZIO M512a-H6 surround system, your TV-watching experience will never be the same. You'll hear every footstep in creepy scenes and have the sound of a flying helicopter right above you. When playing video games, you'll grasp the slightest rustle to have a better shot. No denying this is the best soundbar under $400 you will ever find.
Samsung HW-B650 – also great
In this Samsung HW-B650 review, I will introduce a soundbar that was brought to the market in 2022. This is the next generation of Samsung HW-A650 offering minor updates. It looks similar to Samsung HW-B550 and Samsung HW-B450, other products in this lineup, but HW-B650 gets an upper hand over these models with a center channel for improved vocal reproduction. This model doesn't have as many features compared to higher-end Samsung soundbars, though it still boasts Dolby Atmos 5.1 and DTS Virtual:X support, 430W power, 3.1 channels, and 7 speakers to deliver realistic 3D sound. So, what can you expect from Samsung HW-B650?
Build and design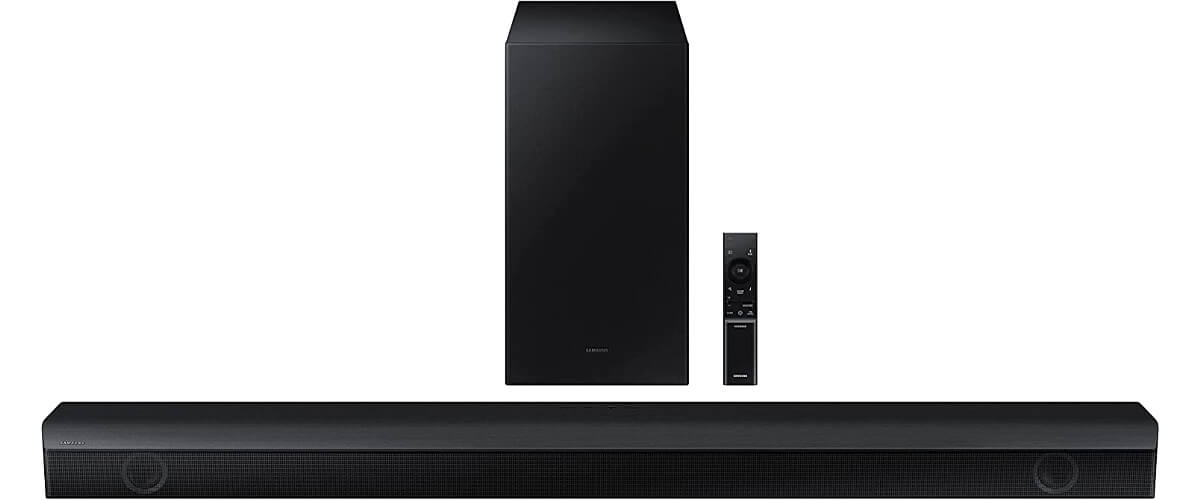 In general, the HW-B650 soundbar inherits all the Samsung-peculiar design elements that make it look similar to other brand's products within the same category. Though we may trace some changes.
The HW-B650 measures 40.6 x 2.3 x 4.1 inches - a few inches bigger than HW-A650. So, it is fairly wide and will hardly fit between the legs of a 55-inch TV. At the same time, it is not that tall, so won't obscure your TV screen. It is mostly made of plastic. The metal grille covers the front part of the divide and its sides. Also, the top of the soundbar features controls that let you adjust the volume and play/stop the playback. The edges are angled, not rounded, which sets HW-B650 apart from its previous HW-A650 model. There is a small four-character digital display on the front showing the volume level and current input.
The HW-B650 comes with a subwoofer. It is 7.2 x 13.6 x 11.6 inches, and it is mostly made of wood. The front of the sub is covered with fabric. It feels thin and loose, and, unfortunately, collects dust quickly.
Setup and connectivity
The setup of the Samsung B650 starts with connecting the TV or other audio source to the bar. For this, you may use an HDMI connection. The port supports ARC, so you will transmit Dolby Digital and DTS content over the HDMI cable. No Dolby TrueHD or DTS-HD Master Audio pass-through will be available to you with ARC.
Other connectivity options - optical and USB are also available. Along with a physical connection, you can wirelessly stream audio from your mobile devices to the soundbar over Bluetooth. By the way, Bluetooth supports connecting multiple devices - like your TV and phone. Notably, HW-B650 misses any kind of Wi-Fi functionality, which cuts the odds to use Chromecast to transmit audio to the device. The sub connects to the soundbar wirelessly, so the only wire you have to use to sync the bar and the subwoofer is a power cord.
Out of the box, Samsung B650 delivers a neutral sound. Though with different customization options at hand, you can achieve the soundstage to your liking. To calibrate the bar, you can set bass and treble along with the appropriate sound mode. For more advanced settings, you can change specific frequency bands.
Features and specs
Many people willing to elevate their TV-watching experience choose Samsung HW-B650 for its compatibility with Dolby Digital 5.1 and DTS Virtual:X. Support for these formats will allow you to move sound around you and recreate a realistic 3D sound performance. With this setup, the soundbar adapts to the content you view. The Adaptive Sound Lite technology dynamically optimizes audio. When the action-packed scene rapidly switches to whispering dialogs, the HW-B650 will fine-tune the settings so you do not miss a thing.
There are multiple sound modes for you to choose from: Bass Boost, Surround Sound Expansion, Game, Adaptive Lite, DTS Virtual:X, and Standard. These are the modes you will also see in the previous Samsung HW-A650 generation. A newer model gets a Voice Enhance Mode, which you may want to use for maximum voice clarity. With Night Mode, you will dim the loud effects and won't disturb your loved ones as they sleep.
Listening experience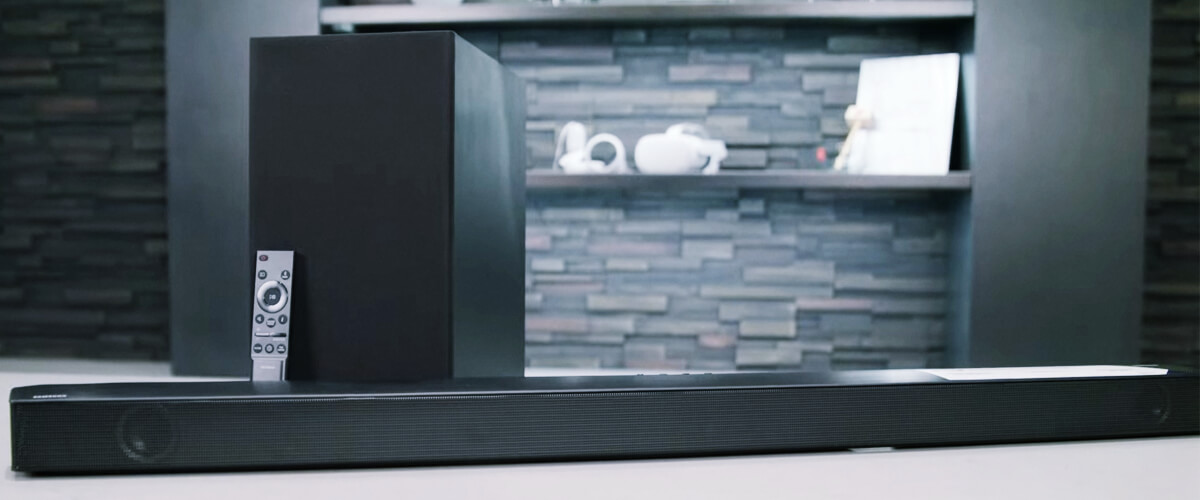 Samsung HW-B650 will give you exactly what you should expect from a basic 3.1 setup - nothing more and nothing less. Compared to the TV speakers, you will immediately notice that the front stage has become more pronounced and enriched with depth. Similarly to the last Samsung HW-A650, the sound is neutral, especially in the mids. Though I should admit that it is a little extra brighter in B650, but not that dramatically. The lack of low bass is still present in this device, which becomes especially noticeable when you listen to bass-heavy genres.
The surround performance is not brilliant, though it's ok for the 3.1 bar. It makes you feel that the sound comes from the speaker placed in front of you, a bit spoiling all the charm of the surround sound.
The soundstage is wide, with the effects localized to accurate locations around you. The stereo dynamics are good - the soundbar is loud enough to fill the room with sound. Though it is a bit compressed at the max volume, especially in the bass range. At a normal volume, I traced no distortions - the sound was pure.
Key specs
Built-in channels: 3.1.
Amplification type: active.
Output power, W: 430.
Separate speaker connections: yes.
Wi-Fi/Bluetooth: no/yes.
Multichannel surround: Dolby Atmos, DTS Virtual:X.
If you do not agree on anything but a good sound bar, Samsung HW-B650 is a choice to go. This is a basic setup from the new series that proved to perform pretty well. The adaptive sound technology is especially handy as it optimizes audio for a better listening experience of any content.
Bose TV Speaker – budget option
In this Bose TV soundbar review, I will tell you about this relatively simple plug-in speaker. In addition to good sound quality, this device is easy to set up and integrate into your home theater system.
This model was introduced in 2020. It may lack more advanced features you will find in Bose's premium offerings, but what it has is more than enough for upgrading your TV's audio to a decent 2-channel stereo. So, take a few minutes to see if this soundbar would be a good choice for you or whether you need to look for another option.
Build and design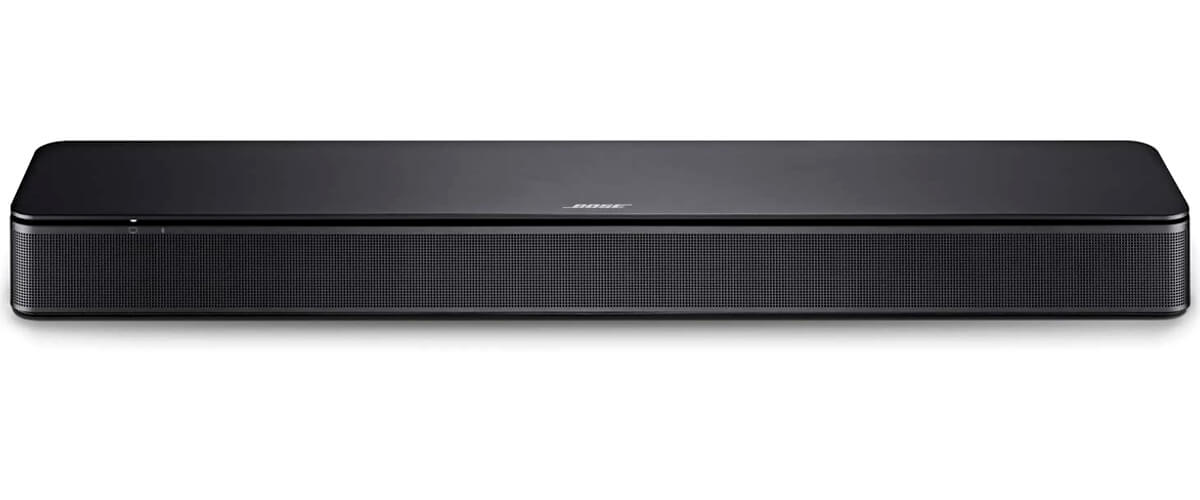 If you are a fan of minimalistic design concepts, you will love the Bose TV speaker. Thanks to a smooth top surface and perforated metal grille, it has a classy vibe. In addition, the casing is made of matte-black plastic, which gives the speaker a restrained yet quite sophisticated look.
As for the size, this soundbar is remarkably small. It measures 2.2 x 23.4 x 4 inches and weighs 4.3 lbs, so it easily fits between the legs of a 55-inch TV to save space. The device has an optimal height, so it won't obscure your TV.
Setup and connectivity
Setting up this soundbar won't be a hassle at all. First, you hook the speaker to the TV via the optical cable or your own HDMI. Then, you plug the speaker into the power outlet, and that's all. After that, the device is ready to use.
As for the availability of ports, you will find HDMI ARC, optical, and AUX inputs. There is a USB port, but it is used for service only. If you want to experience more bass, there is a wired bass module.
You can use one of these ports without the need to manually pick the corresponding input in the settings. However, the good news is that you can employ more than one port to connect different audio devices. The system will detect the first active one and set it as a default input.
If you want to do away with cords, you are free to use Bluetooth. Or you can utilize it as an additional device for other Bose speakers using the Bose Music app.
This soundbar seamlessly works with Roku TV over HDMI. The setup is fairly simple. It's also great that the speaker is compatible with the Roku TV remote.
Features and specs
The Bose television soundbar is a fairly simple device that handles basic tasks well and will not overload you with advanced functionality that you may not need. Nevertheless, this is what makes this speaker easy to use and keeps its price.
With the 36W peak power and 50/60Hz frequency response, you will obtain a rich sound when watching a movie, listening to music, or playing a video game. If you want to get more bass, just hit the Bass button on the remote.
The Dialogue feature is really handy. As you turn it on, the speaker will analyze your watching content. Then, it will elevate vocals to let you hear more clearly and deliver enhanced speech and pronunciation. This capability is especially helpful for podcasts or TV shows.
Unfortunately, there is no Bose app to control the TV speaker. All the configurations are made with the remote. It isn't backlit, but the volume and mute buttons are easy to identify, even in the dark. With the remote, you can activate the Bluetooth mode for pairing the soundbar with other devices, adjust the amount of bass, or switch to a Dialogue mode.
Listening experience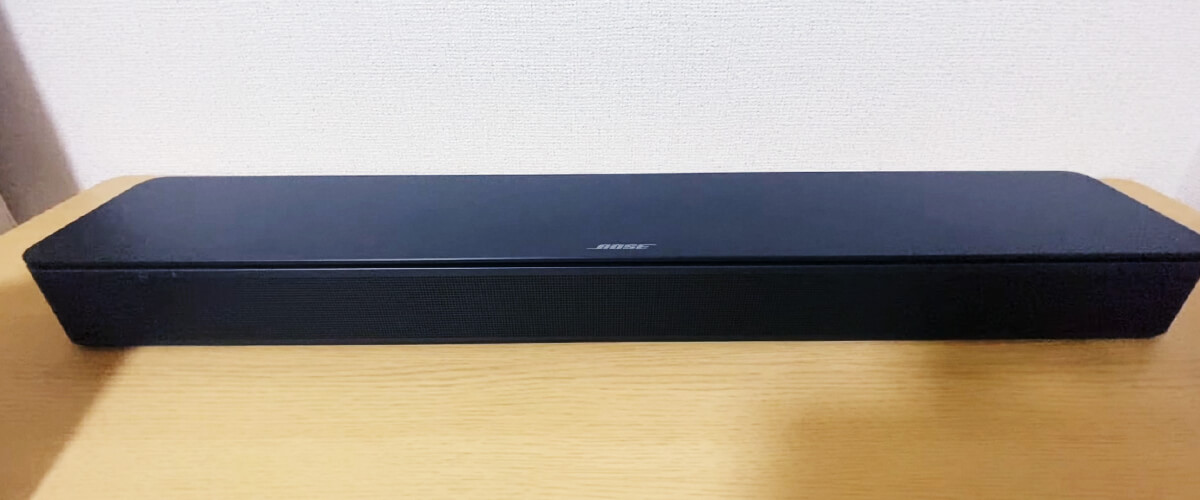 Considering the size of the Bose TV Speaker, you do not expect much from it. But I was really surprised by what it delivers. At its full sound breadth, it can fill up an average living room with a rich sound. However, it may not be enough for a larger or open space. Yet some thumping and compression artifacts are present at the highest volume, especially in the bass range.
The stereo soundstage performance is just fine. It doesn't sound much focused, so movie sound effects are perceived as coming from diffused areas rather than a specific, accurate location.
As for the music, the speaker has a decent frequency response. It is balanced, especially in the mids. The bass is extremely rich, so the default settings are enough for an average listening experience. If you want more, you go to the Bass mode and get a touch of the extra boom. Though, it is better to add a separate sub if you listen to bass-heavy genres for advanced bass reproduction.
Key specs
Built-in channels: 3.0.
Amplification type: active.
Output power, W: 100.
Separate speaker connections: yes.
Wi-Fi/Bluetooth: yes/yes.
Multichannel surround: Dolby Atmos.
Bose TV speaker is the best soundbar under 400 dollars among the most affordable options. It is definitely on par with the leader of my top. I was astonished by the quality of sound this device produced for the money it cost. I recommend using it for a mid-sized room to avoid putting it at the highest volumes for a better experience.
Sonos Beam Gen 2 – compact option
The Sonos Beam Gen 2 is an improved version of the previous soundbar model - the Sonos Beam. This device shares the same compact design as its predecessor but now comes with the support of Dolby Atmos. Yet, this is not the only novelty in this soundbar. So, keep reading my Sonos Beam Gen 2 review to get to know what makes this item superior to its previous model.
Build and design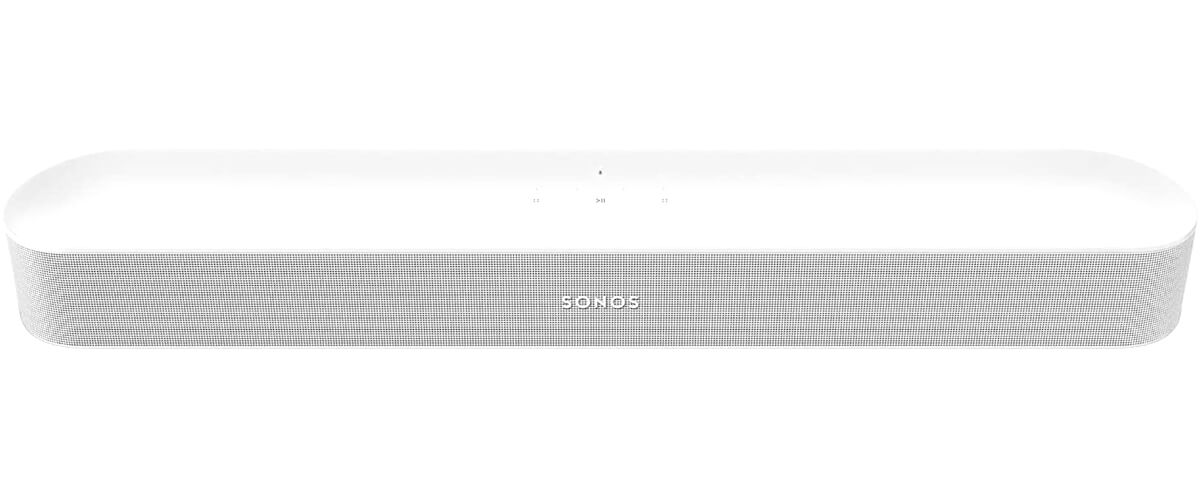 The sleek design is one of the key parameters of the Sonos Beam Gen 2. If you are familiar with Sonos products, then the fact that Beam Gen 2 blends Sonos Arc and the original Sonos Beam will give you a hint of how it looks. The soundbar maintains an elongated shape with a slightly convex top of the Beam and gets a perforated polycarbonate grille from the Arc. There are volume and play/pause controls on the top.
The Beam Gen 2 soundbar is compact - it measures 45 x 4.5 x 3.4 inches, so it is suitable for smaller entertainment spaces as it will easily fit 50-inch TVs or smaller. It comes in two casing options - white and black to accompany your interior.
Under the compact housing, this soundbar conceals five class-D amps that power a central tweeter and four elliptical mid-woofers. There are also three passive radiators to deliver a balanced sound by enhancing low frequencies.
Setup and connectivity
At the back of the Sonos Beam Gen 2, you will find an HDMI eARC/ARC port to let you benefit from high-definition audio formats. There is also an Ethernet 10/100 port to give you an option for connecting to your router. USB, 3.5 mm, or AUX ports are not available in this model. Though you can connect to Wi-Fi with any 2.4 GHz 802.11/b/g/n broadcast-capable router.
Setting up Sonos Beam Gen 2 is easy. You just hook the soundbar to the TV using an included HDMI cable and proceed with the settings through the Sonos App. The app will provide step-by-step guidance so you won't go wrong with the settings. Additionally, you can connect streaming services or customize settings via this app. To make things easier, the soundbar syncs with your existing TV remote to let you control everything using a single device.
The soundbar works with Apple AirPlay 2, so you can stream audio directly from your iPhone, Mac, or iPad. If you have an Android-powered phone, the Sonos App gives access to hundreds of streaming services, so there will be plenty of audio content for you to enjoy.
Features and specs
The Sonos Beam 2 is a smart soundbar with a 40% faster chip than in the previous model. Thanks to this, this device gives you more capabilities and allows the entire listening experience to be configured in as much detail as possible. For instance, the Trueplay technology initiates a series of test tones to adapt to the speaker settings depending on a specific room layout.
Yet, the most prominent update to the Gen 2 model is the support of Dolby Atmos. Now you can definitely add some drive to your television. There is a Speech Enhancement feature available in the app that will let you always follow the story, even when characters whisper. With the Night Sound mode, you will reduce the intensity of loud sound effects and keep the TV down.
Being created with music in mind, the Sonos Beam 2 soundbar supports the highest-resolution formats, including Dolby Atmos Music. By the way, the other good news is that you can control music playback and other system settings using Siri, Alexa, and Google Assistant voice assistants.
Listening experience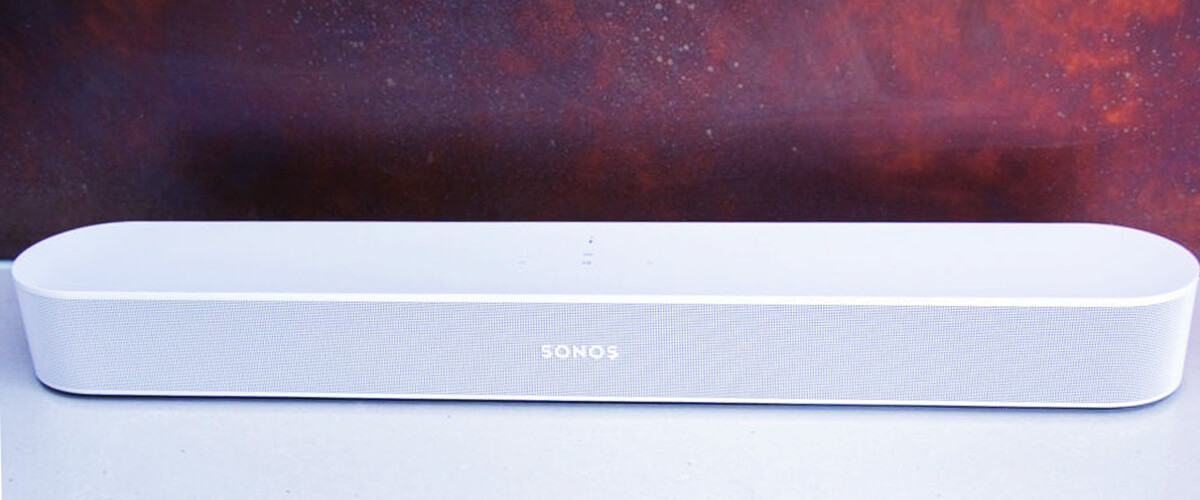 Let me put this straight right at the outset. This is a single-piece soundbar, and it doesn't come with a subwoofer or additional speakers (though you can buy them to extend your sound system). So, it doesn't deliver window-shaking bass or an overwhelming immersive experience.
In general, the sound is clear, balanced, and accurate. You can hear the effects of the surround sound, but they are unlikely to be the same as in a full audio system. The sound effects like explosions, gunfire, footsteps and others may lack the 3D range. Though I want to admit that the returned central channel in the soundbar prioritizes vocal clarity, making dialogs crisper and easier to comprehend.
The Gen 2 provides better depth and height than the original Beam, but it doesn't outperform Sonos Arc in these terms. But considering that this model is smaller than Arc, this fact comes as no surprise. The Beam 2 also does not get nearly as loud as Arc. I would say that its volume capacity is moderate, so you won't get the status of a "noisy" neighbor if you live in an apartment.
As for the music, Beam Gen 2 performs fine. It replicated clear and detailed vocals with accurate lead instruments. Tracks got a little bit of punch in the high-bass sections. Though there was a lack of rumble in the low bass, which may disappoint fans of hip-hop and EDM.
Key specs
Built-in channels: 5.1.
Amplification type: active.
Output power, W: N/A.
Separate speaker connections: no.
Wi-Fi/Bluetooth: yes/no.
Multichannel surround: Dolby Atmos.
The compact housing of Sonos Beam Gen 2 is not without a surprise. Technological advances make this single soundbar a good choice for a start. But if you want to have a truly immersive experience, you should be ready to invest in compatible sub and rear satellites.
LG SP8YA
The multi-dimensional audio from the comfort of your couch. That's what the LG SP8YA 3.1.2 soundbar with a subwoofer takes upon delivering when embedded in a home cinema system. Released in 2021 as the next generation of LG SN8YG, it comes with more EQ presets and an LG TV AI processor for a more immersive sound and better compatibility with LG TVs.
But as a curious user and probably, a potential buyer, you wonder whether the bold manufacturer's message lives up to a real picture. Well, that's what you will be able to piece together after reading my LG SP8YA review. So, let's get it tested together and see how it delivers.
Build and design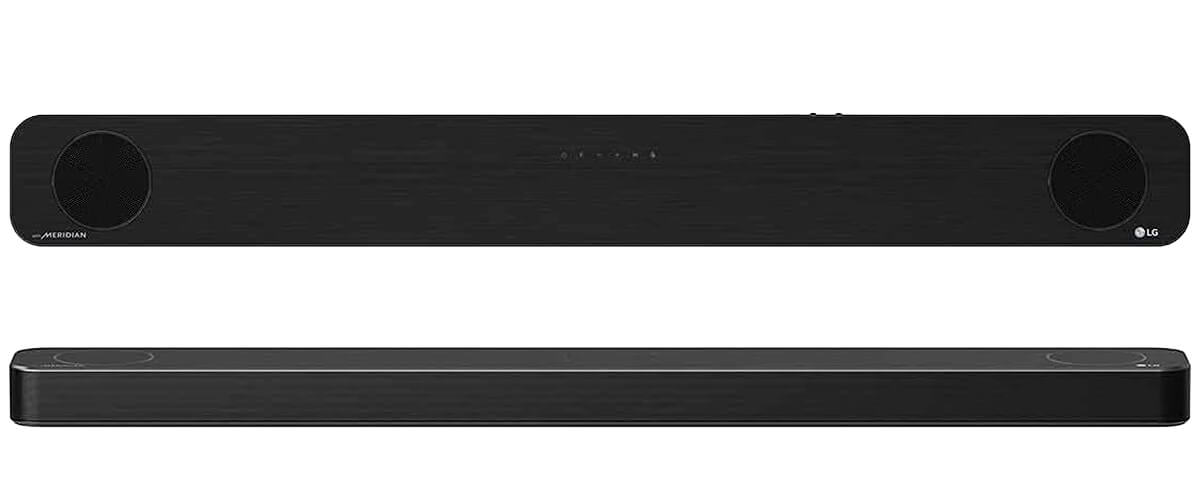 Once glancing at LG SP8YA, you will immediately notice the brand's classic soundbar design - a low form with curved corners. The whole construction is made of plastic with a black finish. This device has a wrap-around mesh grille and a brushed metal top. Two upward-firing speakers are located on two ends of the soundbar's top surface. Three front-firing speakers are placed behind the main grille.
The touch-sensitive buttons that can be found at the top of the soundbar are conveniently located. They allow you to select input, regulate the volume, turn the power on/off, play or pause, and pair devices via Bluetooth.
The LG SP8YA soundbar measures ​​41.7 x 2.2 x 4.7 inches and makes 9.7 lbs, while the subwoofer is 8.7 x 15.4 x 12.3 inches and weighs 17.2 lbs. The size of the speaker allows you to place it in front of the TV. Yet, you will find the included brackets for those who prefer to mount the device on the wall. The sub should better be placed at the front of the room. It will pair automatically with the soundbar.
Setup and connectivity
The setup of SP8YA is relatively simple. Especially if you use the app, which will let you bypass the need to deal with a less-than-informative display on the soundbar itself. With an application, you can connect the speaker to Wi-Fi or discover other capabilities that are out of reach on the remote control. For instance, you may want to use the AI room correction feature that optimizes the sonic performance of the SP8YA speaker according to the acoustic environment.
This soundbar is easy to operate. It will detect and decode incoming audio signals automatically. Then, at your will, you can apply any of the pre-configured sound modes.
You can connect an external source like your TV or 4K Blu-ray player using an HDMI eARC cable to send lossless audio. You can use an optical digital connection if your TV doesn't support eARC. For your convenience, there is a USB port, too. If you want to avoid cables, SP8YA supports Wi-Fi (2.4 and 5GHz) and Bluetooth 5.0 connectivity. Additionally, there is support for Google Chromecast, Spotify, and Apple AirPlay 2.
Features and specs
The SP8YA has the 3.1.2-channel speaker configuration. With one center 40W, two front 40W, two upward-firing 50W speakers, and a wireless subwoofer, you get a setup capable of shattering the space around you with an impactful multi-dimensional audio output. Along with 220W for the subwoofer, that's 440W in total - a decent amount that will ensure a room-filling sound delivery.
This soundbar supports object-based audio - Dolby Atmos and DTS:X. It will also do for reproducing other Dolby and DTS variants (except IMAX) along with LPCM.
The SP8YA has an LG AI processor, which unlocks access to the TV sound mode share. It leverages the TV's processing power along with AI sound Pro to reproduce everything clearer and more consistently.
Voice assistants are available in SP8YA. Choose Alexa or Google Assistant to control Chromecast or other features of the soundbar.
You can choose from various sound modes in this LG speaker: Standard, Music, Cinema, Sports, Game, AI Sound Pro, Bass Blast, and Clear Voice. Other settings include Night Mode, Dynamic Range Control, Auto Volume Leveler, and a User EQ.
Listening experience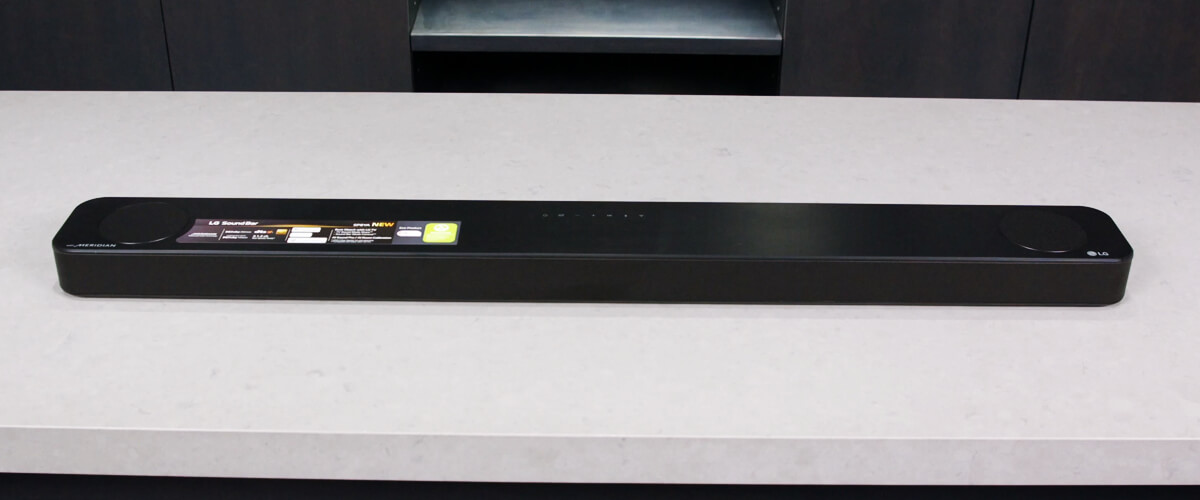 You can expect a solid performance from LG SP8YA for all types of content - music, movies, and TV shows. Moreover, it has the capacity to cover large rooms without losing sound strength or causing distortions.
As I was using it to watch movies, the soundbar went loud. Its bass-rich profile delivered the deep thump and rumble in action-packed scenes. Though the fact that it downmixes surround content into stereo makes the sound slightly lose its immersive power. Additionally, this soundbar reproduced clear and accurate dialog. The dialog enhancement feature did a great job of keeping voices clear and crisp. At the same time, the auto-volume mode balanced the volume level between different shows.
As for music, LG SP8YA also performed great. With its neutral range, the speaker is suitable for various genres. Switch between EQ presets to customize the sound in timers of treble and bass.
Key specs
Built-in channels: 3.1.2.
Amplification type: active.
Output power, W: 440.
Separate speaker connections: yes.
Wi-Fi/Bluetooth: yes/yes.
Multichannel surround: Dolby Atmos, DTS:X.
Among other home theater sound bars, LG SP8YA is prominent for its powerful sound and well-balanced soundstage. So whether you watch a movie, play a game, or listen to music, this soundbar setup will bring a room-filling sound for any type of entertainment. Moreover, it will definitely be able to compete seriously with all the presented models. So take a closer look at this device.
What's the difference between a soundbar and a home theater system?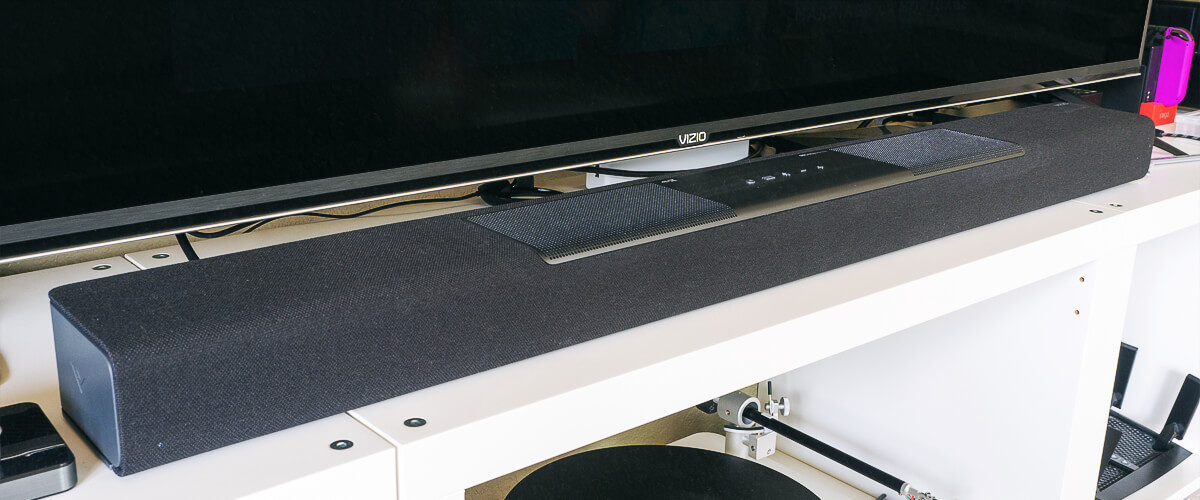 Let's start with the soundbar. These sleek, single-speaker wonders are perfect if you're short on space or crave simplicity. Setting up a soundbar is a breeze – just place it in front of your TV or mount it below. There is no need for a receiver, as they connect easily via HDMI or optical cables. However, they may fall short of reproducing true surround sound, even with virtual technology.
Now, onto the home theater system. Here, you get the ultimate audio customization. Pick from various speakers to match your room and preferences. But be ready for a more complex setup, including wiring and speaker placement. Quality components can make it a bigger financial commitment, but the immersive surround sound can be worth it.
In a nutshell, choose a soundbar if you want simplicity and decent audio improvement. Opt for a home theater system if you seek true cinematic audio and are willing to invest in setup and equipment. It's all about what matters most to you and your space.
FAQ
Can a cheap soundbar sound any good?
It's all about the contrast. A cheap soundbar is still better than a TV speaker. It may get louder and add new dimensions to the sound. As you rewatch your favorite movies, you may reveal new sound subtitles unavailable to you with TV speakers. Top-rated sound bars may have more advanced technologies, which you will not necessarily need as a starter. So, even an inexpensive soundbar will be an improvement over your TV, that's for sure.
How much should I pay for a sound bar?
The market is brimming with soundbar options ranging from $100 to $4,000 and higher. Of course, how much you are ready to pay for a more advanced audio experience is totally up to you. Still, you can find great value-for-the-money offers at around $400.
Do you need a subwoofer with a soundbar?
A simple answer to this question is no, you do not necessarily need to use a subwoofer with a soundbar. But you should also know that a sub will deliver a deeper sound by recreating low frequencies ordinary bars can't reach.
Can I use a soundbar for both movies and music?
Absolutely! Soundbars are versatile and well-suited for both movies and music. Many models offer various audio modes to enhance your listening experience, whether you're watching a blockbuster or enjoying your favorite tunes. However, keep in mind that while soundbars can significantly improve audio quality, they may not match the depth and richness of a dedicated stereo system for critical music listening.
Can I use a soundbar for outdoor entertainment or in a patio setup?
I do not recommend using a soundbar outdoors unless it's specifically designed for outdoor use. Standard indoor soundbars are not built to withstand the elements, such as moisture and extreme temperatures. Using one outdoors can damage it and compromise performance. If you want outdoor audio, consider outdoor speakers or portable Bluetooth speakers designed for outdoor use, which are better suited to handle outdoor conditions and provide quality sound for your patio setup.