In this Bose TV soundbar review, I will tell you about this relatively simple plug-in speaker. In addition to good sound quality, this device is easy to set up and integrate into your home theater system.
This model was introduced in 2020. It may lack more advanced features you will find in Bose's premium offerings, but what it has is more than enough for upgrading your TV's audio to a decent 2-channel stereo. So, take a few minutes to see if this soundbar would be a good choice for you or whether you need to look for another option.
Build and design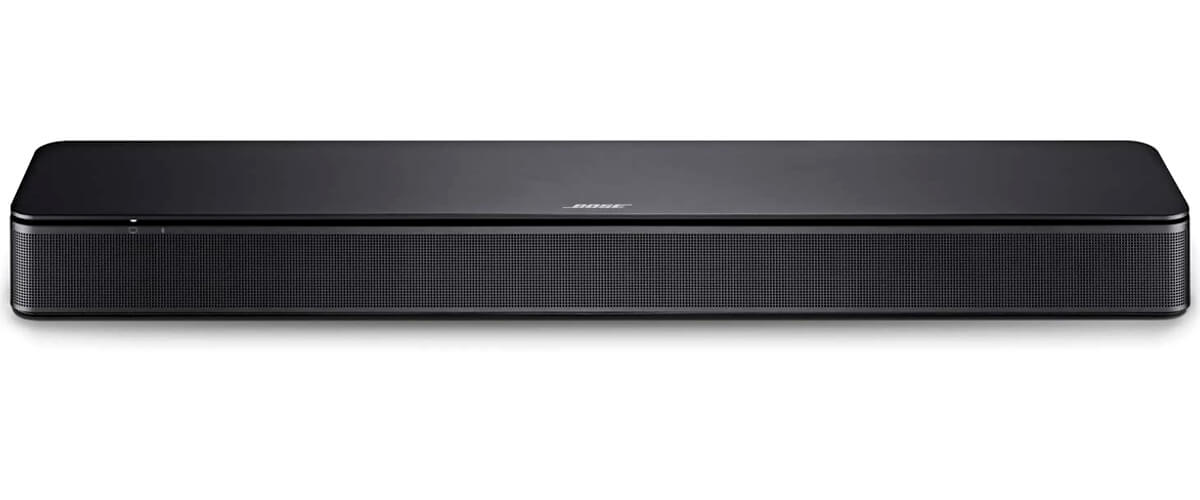 If you are a fan of minimalistic design concepts, you will love the Bose TV speaker. Thanks to a smooth top surface and perforated metal grille, it has a classy vibe. In addition, the casing is made of matte-black plastic, which gives the speaker a restrained yet quite sophisticated look.
As for the size, this soundbar is remarkably small. It measures 2.2 x 23.4 x 4 inches and weighs 4.3 lbs, so it easily fits between the legs of a 55-inch TV to save space. The device has an optimal height, so it won't obscure your TV.
Setup and connectivity
Setting up this soundbar won't be a hassle at all. First, you hook the speaker to the TV via the optical cable or your own HDMI. Then, you plug the speaker into the power outlet, and that's all. After that, the device is ready to use.
As for the availability of ports, you will find HDMI ARC, optical, and AUX inputs. There is a USB port, but it is used for service only. If you want to experience more bass, there is a wired bass module.
You can use one of these ports without the need to manually pick the corresponding input in the settings. However, the good news is that you can employ more than one port to connect different audio devices. The system will detect the first active one and set it as a default input.
If you want to do away with cords, you are free to use Bluetooth. Or you can utilize it as an additional device for other Bose speakers using the Bose Music app.
This soundbar seamlessly works with Roku TV over HDMI. The setup is fairly simple. It's also great that the speaker is compatible with the Roku TV remote.
Features and specs
The Bose television soundbar is a fairly simple device that handles basic tasks well and will not overload you with advanced functionality that you may not need. Nevertheless, this is what makes this speaker easy to use and keeps its price.
With the 36W peak power and 50/60Hz frequency response, you will obtain a rich sound when watching a movie, listening to music, or playing a video game. If you want to get more bass, just hit the Bass button on the remote.
The Dialogue feature is really handy. As you turn it on, the speaker will analyze your watching content. Then, it will elevate vocals to let you hear more clearly and deliver enhanced speech and pronunciation. This capability is especially helpful for podcasts or TV shows.
Unfortunately, there is no Bose app to control the TV speaker. All the configurations are made with the remote. It isn't backlit, but the volume and mute buttons are easy to identify, even in the dark. With the remote, you can activate the Bluetooth mode for pairing the soundbar with other devices, adjust the amount of bass, or switch to a Dialogue mode.
Listening experience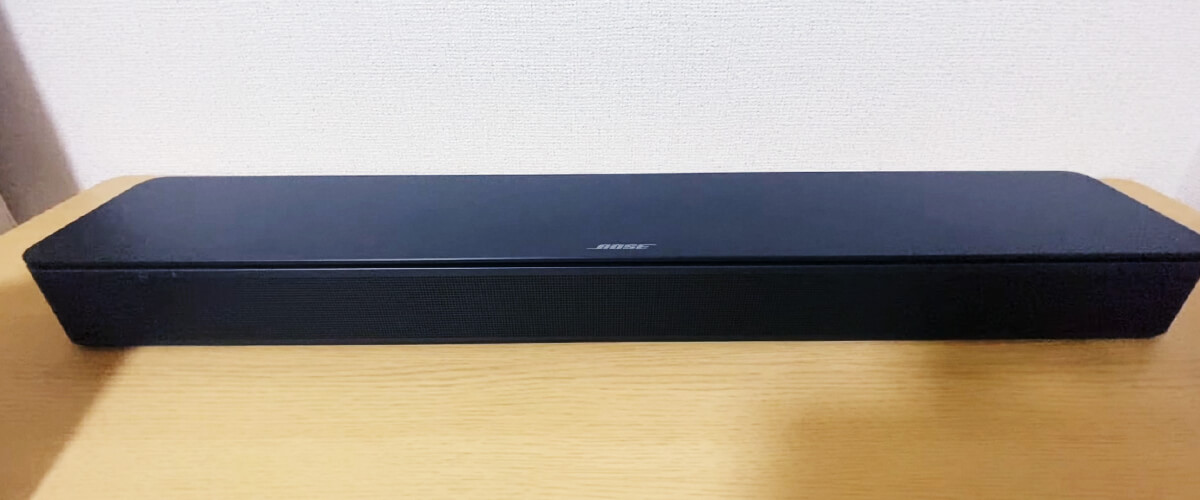 Considering the size of the Bose TV Speaker, you do not expect much from it. But I was really surprised by what it delivers. At its full sound breadth, it can fill up an average living room with a rich sound. However, it may not be enough for a larger or open space. Yet some thumping and compression artifacts are present at the highest volume, especially in the bass range.
The stereo soundstage performance is just fine. It doesn't sound much focused, so movie sound effects are perceived as coming from diffused areas rather than a specific, accurate location.
As for the music, the speaker has a decent frequency response. It is balanced, especially in the mids. The bass is extremely rich, so the default settings are enough for an average listening experience. If you want more, you go to the Bass mode and get a touch of the extra boom. Though, it is better to add a separate sub if you listen to bass-heavy genres for advanced bass reproduction.
Key specs
Built-in channels: 3.0.
Amplification type: active.
Output power, W: 100.
Separate speaker connections: yes.
Wi-Fi/Bluetooth: yes/yes.
Multichannel surround: Dolby Atmos.