Looking for a comprehensive Creative Sound Blaster Katana V2 review? Look no further! In this article, we will examine the sound experience and the advantages and disadvantages offered by this soundbar.
The original iteration of the Creative Sound Blaster Katana garnered significant acclaim from the gaming community. While not flawless, the initial version had a few minor concerns that were diligently addressed in the latest offering: the Sound Blaster Katana V2.
With this refreshed version, the creators promise a notable increase of over 60% in power compared to its predecessor. Additionally, they have introduced a new remote controller, a larger subwoofer, and expanded connectivity options.
Build and design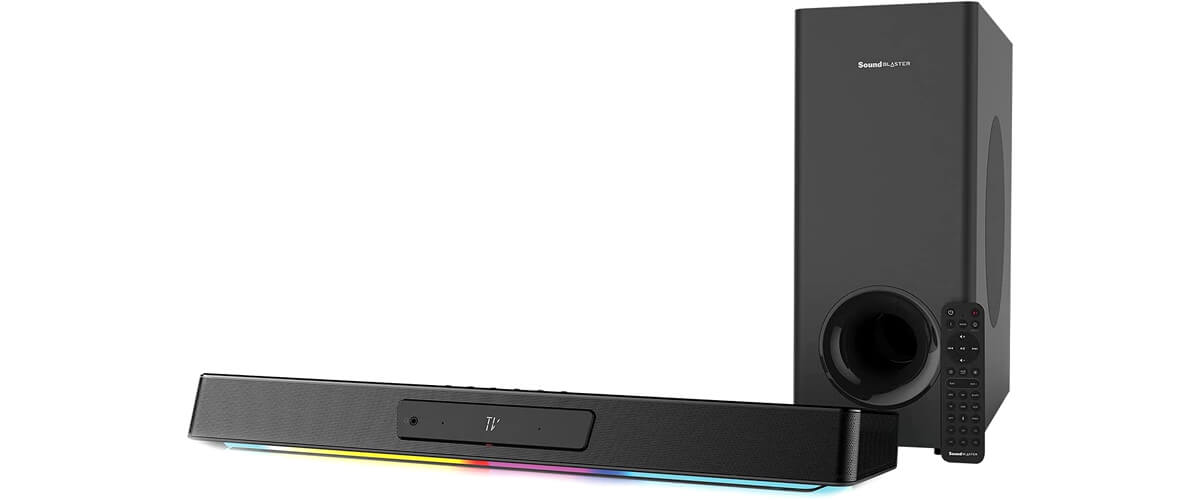 The Katana V2 boasts an understated, clean design with an all-black brushed metal finish, providing an appealing look without drawing excessive attention.
The front panel of the soundbar features an LCD panel that displays the selected input. Additionally, it includes a convenient 3.5mm jack for headset connectivity.
The remote control is designed with ergonomics in mind, ensuring comfortable use. It provides comprehensive control over all soundbar functions and allows for easy switching between modes. Moreover, it offers bass adjustment specifically for the subwoofer. For added convenience, six customizable buttons enable personalized settings.
A striking RGB lightbar is positioned along the bottom section of the soundbar. Users have the freedom to customize the colors of the lightbar to match their preferences. Furthermore, a music sync mode synchronizes color changes with the audio being played.
In addition, the Creative Katana V2 prioritizes audio quality with its new design for the fabric dome tweeter. It features two 3/4-inch tweeters, two 2.5-inch mid-range drivers, and a potent 6.5-inch subwoofer, resulting in precise sound reproduction. The subwoofer's ample cone guarantees deep bass without compromising the overall sound quality.
Setup and connectivity
The Katana V2 offers extensive customization options. It includes three acoustic modes (Movies, Music, and Gaming) and allows full EQ customization for personalized sound adjustments. The virtual 5.1 surround sound mode impressively projects sound for an immersive experience.
Connectivity options are abundant on the Katana V2, featuring Bluetooth 5.0, HDMI ARC, USB-C, Aux in, Optical in, and SXFI out. HDMI ARC facilitates easy connection to TVs or projectors, while USB-C is ideal for gaming setups with monitors.
Although the addition of Wi-Fi would have enhanced the soundbar's features, overall, the Katana V2 provides sufficient connectivity options.
Features and specs
The Sound Blaster Katana V2 soundbar is all about customization and convenience. With the Creative app, you can fine-tune its sound performance using Sound Blaster processing technologies and EQ settings. And if you have specific preferences for parties or gatherings, simply save your preferred sound mode, volume, and lighting color to a programmable button on the remote for easy access.
Versatility is another key feature of the Sound Blaster Katana V2. It seamlessly works with various platforms, including game consoles like the PS5, PS4, Xbox Series X, and S, Nintendo Switch, as well as PC, Mac, and mobile devices.
Listening experience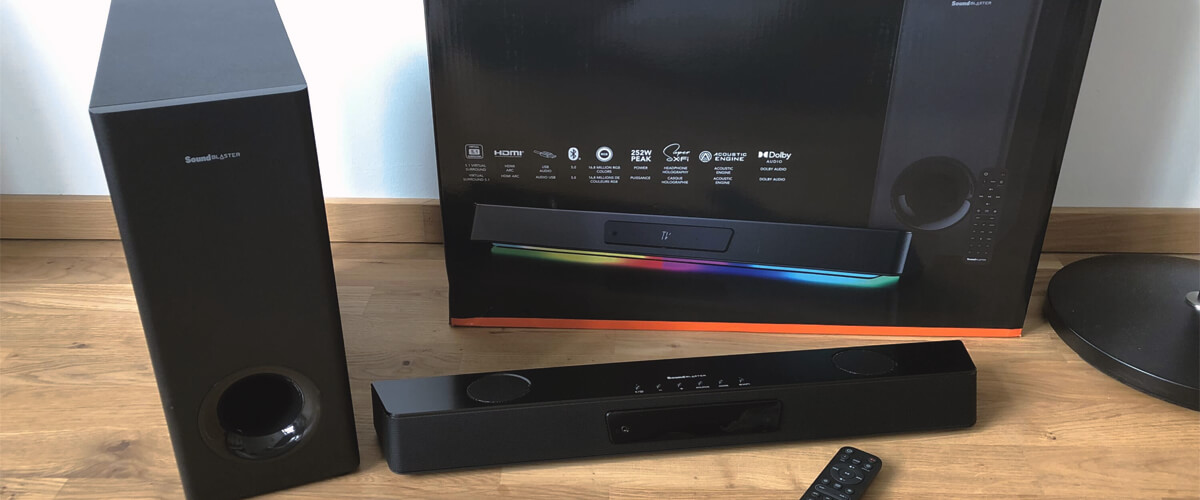 Having had the chance to try out the Katana V2 soundbar personally, I am ready to share my impressions of using this device.
One aspect that stood out to me was the meticulously engineered triple-amp design of the Katana V2. The ability to individually control each midrange driver, tweeter, and subwoofer resulted in a commendable audio performance across all frequencies.
The inclusion of new 3/4-inch fabric dome tweeter drivers enhanced the clarity of high-frequency sounds. The larger subwoofer driver delivered deep and resonant bass, adding a satisfying depth to the overall audio quality.
The Katana V2's true 5.1 channel playback provided a heightened sense of immersion during my gaming sessions. The surround sound effect created a realistic audio environment, making me feel more engaged in my gaming adventures.
I appreciated the Katana V2's substantial 68% increase in power output. This ensured accurate and high-resolution sound reproduction, even at higher volume levels.
The certified Dolby Audio decoder in the Katana V2 added a cinematic touch to my living room. It enhanced the audio quality of movies and shows, creating an immersive experience that made me feel like I was in a theater.
Key specs
Built-in channels: 2.1.
Amplification type: active.
Output power, W: 66.
Separate speaker connections: no.
Wi-Fi/Bluetooth: yes/no.
Multichannel surround: no.