The multi-dimensional audio from the comfort of your couch. That's what the LG SP8YA 3.1.2 soundbar with a subwoofer takes upon delivering when embedded in a home cinema system. Released in 2021 as the next generation of LG SN8YG, it comes with more EQ presets and an LG TV AI processor for a more immersive sound and better compatibility with LG TVs.
But as a curious user and probably, a potential buyer, you wonder whether the bold manufacturer's message lives up to a real picture. Well, that's what you will be able to piece together after reading my LG SP8YA review. So, let's get it tested together and see how it delivers.
Build and design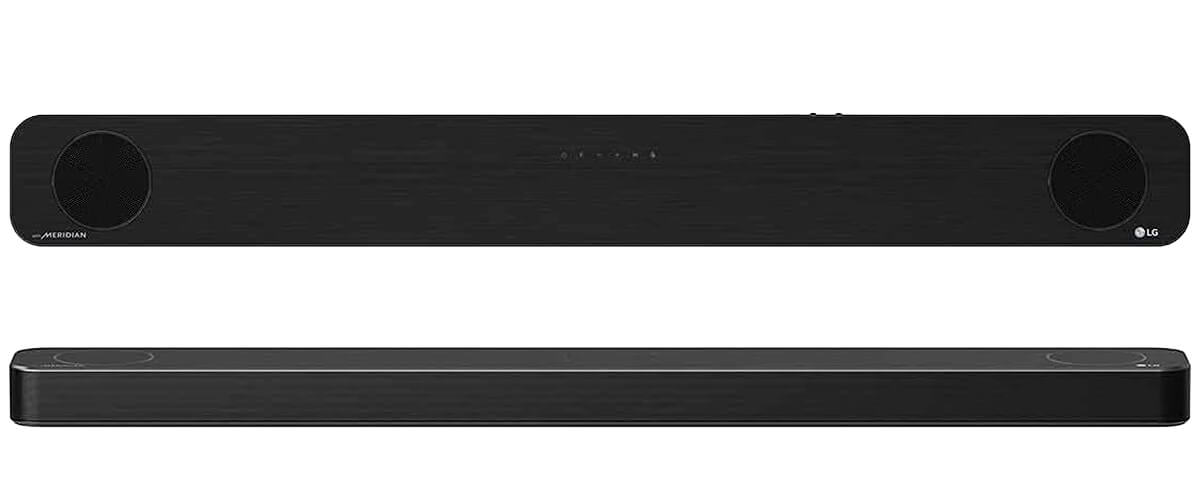 Once glancing at LG SP8YA, you will immediately notice the brand's classic soundbar design – a low form with curved corners. The whole construction is made of plastic with a black finish. This device has a wrap-around mesh grille and a brushed metal top. Two upward-firing speakers are located on two ends of the soundbar's top surface. Three front-firing speakers are placed behind the main grille.
The touch-sensitive buttons that can be found at the top of the soundbar are conveniently located. They allow you to select input, regulate the volume, turn the power on/off, play or pause, and pair devices via Bluetooth.
The LG SP8YA soundbar measures ​​41.7 x 2.2 x 4.7 inches and makes 9.7 lbs, while the subwoofer is 8.7 x 15.4 x 12.3 inches and weighs 17.2 lbs. The size of the speaker allows you to place it in front of the TV. Yet, you will find the included brackets for those who prefer to mount the device on the wall. The sub should better be placed at the front of the room. It will pair automatically with the soundbar.
Setup and connectivity
The setup of SP8YA is relatively simple. Especially if you use the app, which will let you bypass the need to deal with a less-than-informative display on the soundbar itself. With an application, you can connect the speaker to Wi-Fi or discover other capabilities that are out of reach on the remote control. For instance, you may want to use the AI room correction feature that optimizes the sonic performance of the SP8YA speaker according to the acoustic environment.
This soundbar is easy to operate. It will detect and decode incoming audio signals automatically. Then, at your will, you can apply any of the pre-configured sound modes.
You can connect an external source like your TV or 4K Blu-ray player using an HDMI eARC cable to send lossless audio. You can use an optical digital connection if your TV doesn't support eARC. For your convenience, there is a USB port, too. If you want to avoid cables, SP8YA supports Wi-Fi (2.4 and 5GHz) and Bluetooth 5.0 connectivity. Additionally, there is support for Google Chromecast, Spotify, and Apple AirPlay 2.
Features and specs
The SP8YA has the 3.1.2-channel speaker configuration. With one center 40W, two front 40W, two upward-firing 50W speakers, and a wireless subwoofer, you get a setup capable of shattering the space around you with an impactful multi-dimensional audio output. Along with 220W for the subwoofer, that's 440W in total – a decent amount that will ensure a room-filling sound delivery.
This soundbar supports object-based audio – Dolby Atmos and DTS:X. It will also do for reproducing other Dolby and DTS variants (except IMAX) along with LPCM.
The SP8YA has an LG AI processor, which unlocks access to the TV sound mode share. It leverages the TV's processing power along with AI sound Pro to reproduce everything clearer and more consistently.
Voice assistants are available in SP8YA. Choose Alexa or Google Assistant to control Chromecast or other features of the soundbar.
You can choose from various sound modes in this LG speaker: Standard, Music, Cinema, Sports, Game, AI Sound Pro, Bass Blast, and Clear Voice. Other settings include Night Mode, Dynamic Range Control, Auto Volume Leveler, and a User EQ.
Listening experience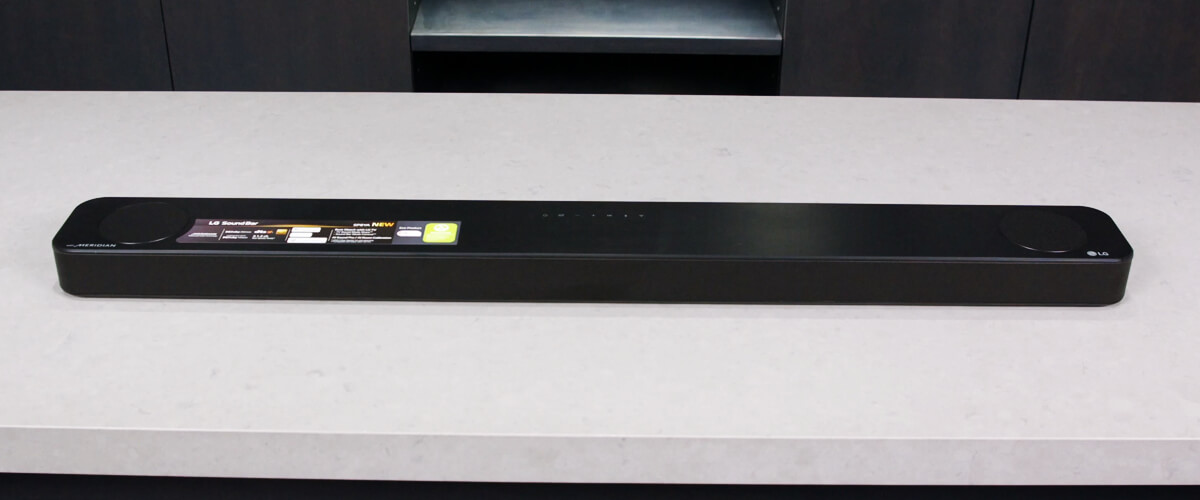 You can expect a solid performance from LG SP8YA for all types of content – music, movies, and TV shows. Moreover, it has the capacity to cover large rooms without losing sound strength or causing distortions.
As I was using it to watch movies, the soundbar went loud. Its bass-rich profile delivered the deep thump and rumble in action-packed scenes. Though the fact that it downmixes surround content into stereo makes the sound slightly lose its immersive power. Additionally, this soundbar reproduced clear and accurate dialog. The dialog enhancement feature did a great job of keeping voices clear and crisp. At the same time, the auto-volume mode balanced the volume level between different shows.
As for music, LG SP8YA also performed great. With its neutral range, the speaker is suitable for various genres. Switch between EQ presets to customize the sound in timers of treble and bass.
Key specs
Built-in channels: 3.1.2.
Amplification type: active.
Output power, W: 440.
Separate speaker connections: yes.
Wi-Fi/Bluetooth: yes/yes.
Multichannel surround: Dolby Atmos, DTS:X.