Have you ever wondered what you can get from the 2.1 soundbars? Then, make it to the end of my Polk Audio Signa S3 review to check the features of this device and learn whether it provides the necessary capabilities to meet your needs.
It is not the newest product from the lineup. S4 is now available on the market, yet S3 remains a preferred choice for people on a budget seeking a punchier movie-watching experience. So let's see what makes it a worthy option.
Build and design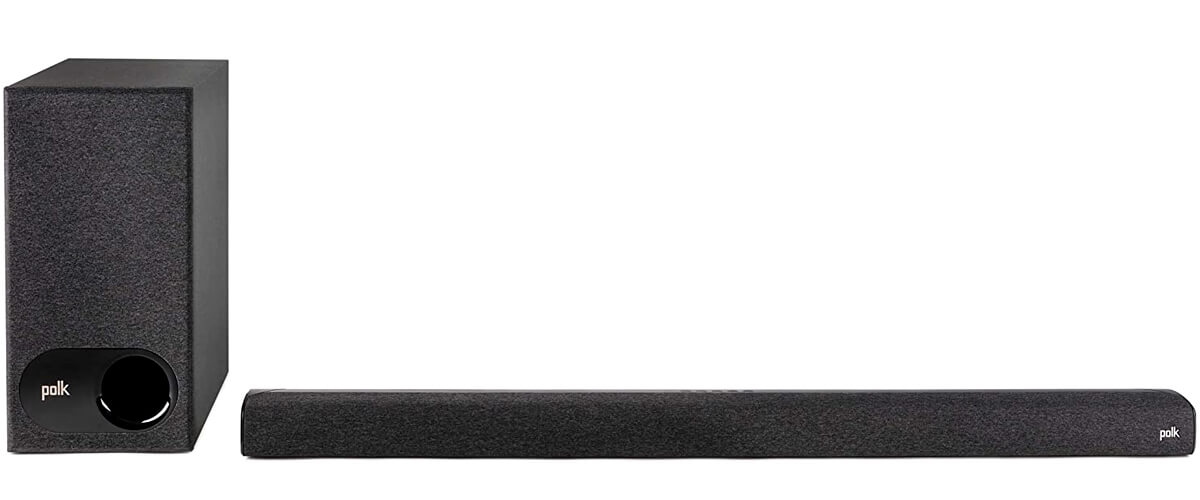 As you look at Polk Audio Signa S3, you will immediately notice that it was inspired by the previous models. Its design is similar to S1 and S2; only S3 looks sleeker and nicer. Its wool-like grille is thick but still prone to tearing or ripping. In these terms, metal grilles are more reliable. The casing is made of plastic, which doesn't feel cheap. Internally, two front-firing midrange drivers and two front-firing tweeters are hidden under the soundbar body.
The bar measures 2.15 x 35.43 x 3.22 inches, so it will hardly fit between the TV legs. Therefore, it is rather designed to sit in front of your TV without blocking the screen. The sub is moderately-sized – 13.4 x 6.72 x 12.2 inches. Its front part also features mesh covering, while the housing is made of wood.
Basic controls on the top of the bar allow you to select the source, pair devices via Bluetooth, regulate the volume, and power the soundbar on/off. Instead of the screen, you will find a few lights that change depending on the operating mode.
Setup and connectivity
Polk Signa S3 is pretty basic in terms of connectivity. There is a single HDMI port with ARC. You will also find an analog 3.5mm Mini-Jack (AUX) and optical audio inputs.
Wireless connectivity options are also available. You may use Bluetooth or Wi-Fi. I was pleased that Polk Signa S3 supports Chromecast. This way, you can stream content directly from your favorite services like Spotify, Amazon Music HD, YouTube Music, Google Play Music, Tidal, Pandora, and more.
This model has no auto-tuning functions. Thus, you will have to play with the settings for a while to get the desired sound effects. There is a Voice Adjust technology that regulates the dialog level, but, in my opinion, it does little to help you set up the entire soundstage and audio reproduction.
Features and specs
First of all, I would like to point out that S3 lacks Dolby Atmos decoding, which is a privilege of higher-end soundbars. But you can still get decent sound quality with Movie and Music. There's also a Night mode where you can dim loud effects so as not to disturb your loved ones or neighbors. But there's a not-so-nice thing about the modes. I find switching between them somewhat confusing. As there is only a single LED indicator that runs pink for all the modes, there is no way for you to know what mode is on unless you switch it.
Signa S3 soundbar works with Google Assistant to let you use your voice to control music. You can ask the assistant to play, pause, or adjust the volume. Using the Google Home app, you can pair this bar with other Chromecast-enabled speakers to transmit audio signals across your home. And this is really useful and convenient!
Listening experience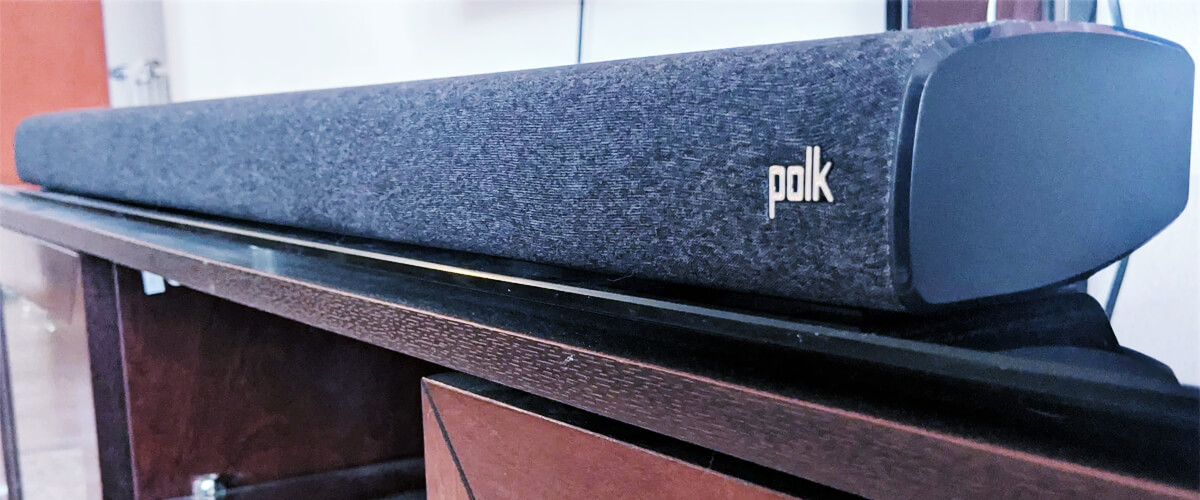 It is a basic soundbar setup that doesn't support Dolby Atmos or DTS:X audio reproduction. Therefore, do not expect to be surrounded by sound from all dimensions. So, the sound of the helicopter flying overhead will be perceived from the front rather than above. This may make your watching experience less engaging. In movies or TV shows, you hear dialog clearly. You can also use the Voice Adjust function to enhance the details of the dialogs.
When reproducing music, there is no consistency in how this bar sounds. In one track, it is too boomy. In another – it is bright. The bass is okay but not powerful enough for a good rumble. I do not recommend using Polk Audio Signa S3 in the loudest volume settings. Otherwise, you will notice compression artifacts that interfere with your listening experience.
Key specs
Built-in channels: 5.1.
Amplification type: active.
Output power, W: 40.
Separate speaker connections: yes.
Wi-Fi/Bluetooth: yes/yes.
Multichannel surround: Dolby Atmos.