Samsung HW-Q800A is a versatile soundbar from the 2021 lineup. This model came to replace the HW-Q800T. It retains the previous model's design yet gains a few more things you will appreciate having in your audio system. The soundbar is a 3.1.2-channel setup with a wireless 8-inch sub. But how does it sound, and what features make it superior to the previous Samsung products? That's the topic of my Samsung Q800A review.
Build and design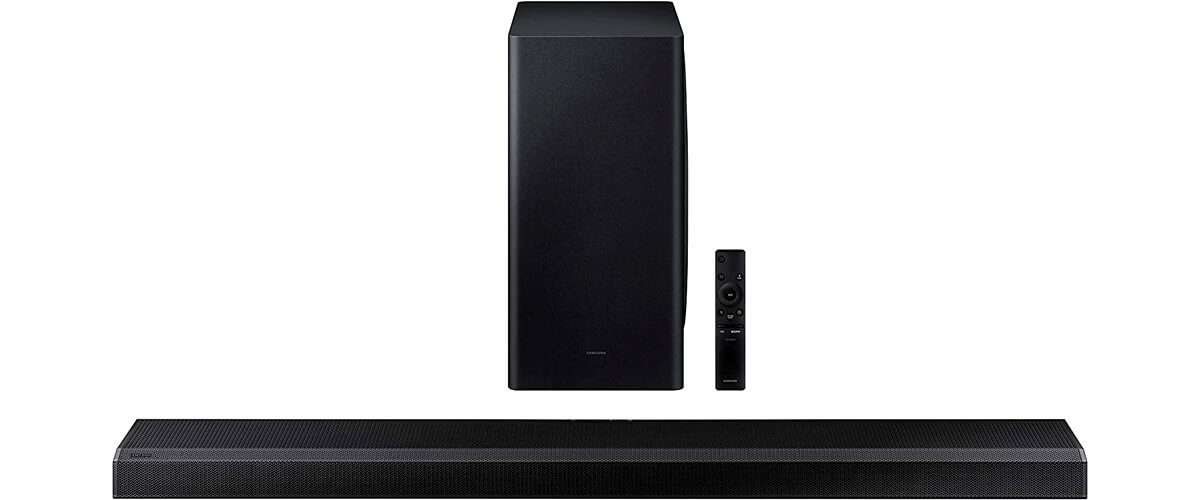 To build the Q800A, Samsung used the same case as the last year's model. This soundbar has a low-factor design with an angled front. The metal grille covers the top and front of the bar, while other parts are made of hard plastic.
The soundbar measures 38.6 x 2.4 x 4.5 inches and weighs 29.5 lbs. It will hardly fit between the legs of a 55-inch TV since it is pretty wide. Though you can place it in front of your TV without blocking the view as the bar is not very tall. You will find an alphanumeric display on the right front side that provides basic information on the setup, volume, sound mode, or selected inputs. Touch-sensitive controls are also on the top of the soundbar to adjust the volume, change inputs, turn on/off the mic, enable Alexa, and more.
As for the subwoofer, it is 8.3 x 15.9 x 15.9 inches and 21.6 lbs. It is made of wood, though the front part is covered with fabric.
Setup and connectivity
The Q800A soundbar is equipped with an HDMI output (eARC) and one HDMI input, allowing you to receive uncompressed Dolby Atmos signals from all connected devices. This model also supports Dolby Digital and DTS content over an optical port, though it lacks a 3.5mm AUX port.
For a wireless connection, you can use Wi-Fi and Bluetooth. You can't stream audio over Chromecast built-in, though the Airplay 2 is enabled to transmit signals directly from your Apple gadgets. While there are no built-in Spotify or other audio streaming services, you can use a SmartThings app with many opportunities for bringing audio from your phone to the soundbar. Is it convenient? Absolutely!
When you hook up all the devices, you may need to experiment a little to get the desired performance. An SPL meter and test tones will come in handy here. Unfortunately, you can't adjust the left and right levels separately, which may be a problem for asymmetric rooms. The SpaceFit Sound Auto optimization feature is great as it calibrates sound to fit your space, but it is available only with Samsung TVs.
Features and specs
With Dolby Atmos and DTS:X immersive audio, the Samsung HW-Q800A soundbar delivers realistic effects as you watch movies or play games. You can achieve a more immersive experience in the Game Pro Mode as the device will level up 3D audio with the on-screen action. The Samsung Acoustic Beam technology does a good thing at mixing and delivering sound exactly from where it happens on the screen. Once you use the Active Voice Amplifier, you will hear every line from the dialog more clearly, even if it is a whisper. The dynamic adaptive sound eliminates the need to adjust the volume as you watch content – this technology will regulate the output for every scene. To customize the sound profiles without much hassle, you can use EQ presets and modes like Standard, Surround, Adaptive Sound, and Game Pro. These features of this model certainly distinguish it from many other analogs.
The HW-Q800A is ready to hear your commands. Use Alexa for hands-free control over playing music, asking about the weather, and more.
Some Q800A features are centered around the Samsung TV. For example, the SpaceFit Sound technology will automatically balance the sound for a room-filling experience. There is also a Q-Symphony feature to synchronize audio for a harmonious experience as you listen to the music.
Listening experience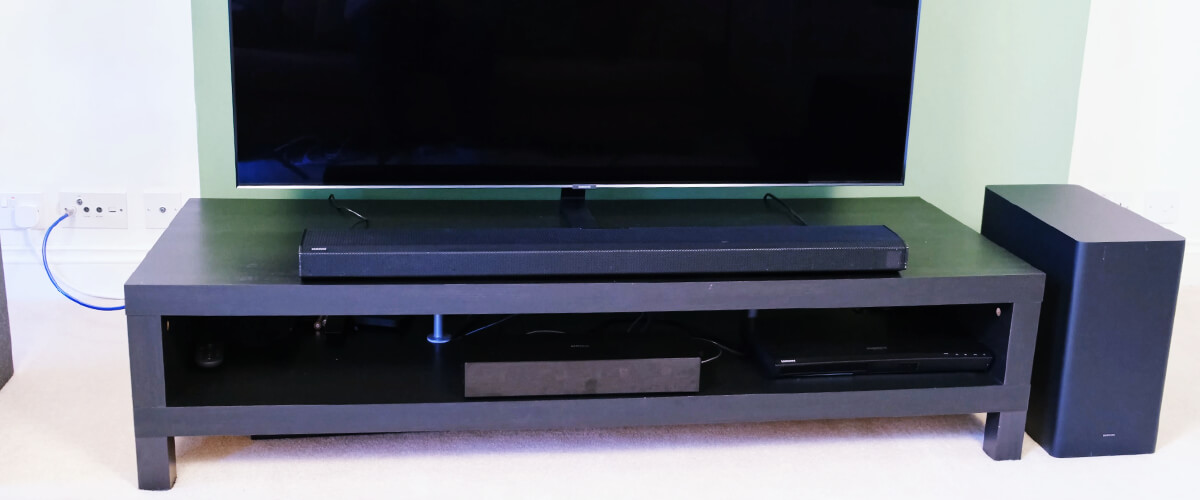 The Samsung HW-Q800A is an average 3.1.2 configuration that delivers stable performance without a jaw-dropping effect. It is still better than a mono soundbar or built-in TV speakers, but nothing more.
This system creates a wide sound at the front of the room rather than above or behind you, depending on the scene. So, the surround performance is not as good as it could be. The soundbar uses two up-firing speakers to recreate the effect of height, but it doesn't sound as realistic as discrete localization delivered by home theater setups. To eliminate this issue, Samsung offers wireless speakers with upward-firing drivers.
I think this soundbar model is good for music. It delivers a balanced soundstage with thumpy bass. In terms of stereo dynamics, Samsung HW-Q800A gets loud, which makes it suitable for large rooms. Though you may notice some treble and bass ranges on max volume, they are certainly not critical.
Key specs
Built-in channels: 3.1.2.
Amplification type: active.
Output power, W: 115.
Separate speaker connections: yes.
Wi-Fi/Bluetooth: yes/yes.
Multichannel surround: Dolby Atmos, DTS:X.