The Sonos Beam Gen 2 is an improved version of the previous soundbar model – the Sonos Beam. This device shares the same compact design as its predecessor but now comes with the support of Dolby Atmos. Yet, this is not the only novelty in this soundbar. So, keep reading my Sonos Beam Gen 2 review to get to know what makes this item superior to its previous model.
Build and design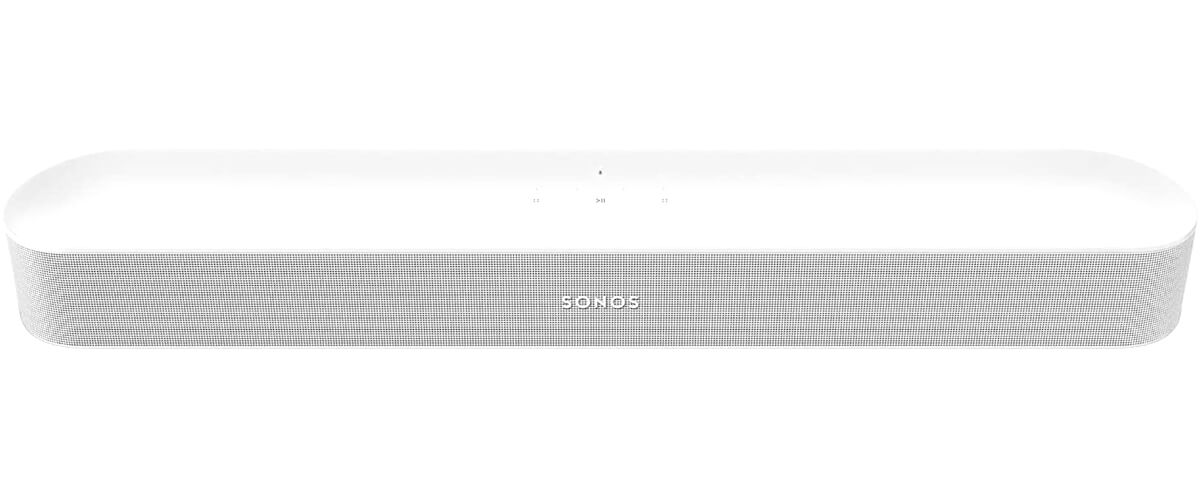 The sleek design is one of the key parameters of the Sonos Beam Gen 2. If you are familiar with Sonos products, then the fact that Beam Gen 2 blends Sonos Arc and the original Sonos Beam will give you a hint of how it looks. The soundbar maintains an elongated shape with a slightly convex top of the Beam and gets a perforated polycarbonate grille from the Arc. There are volume and play/pause controls on the top.
The Beam Gen 2 soundbar is compact – it measures 45 x 4.5 x 3.4 inches, so it is suitable for smaller entertainment spaces as it will easily fit 50-inch TVs or smaller. It comes in two casing options – white and black to accompany your interior.
Under the compact housing, this soundbar conceals five class-D amps that power a central tweeter and four elliptical mid-woofers. There are also three passive radiators to deliver a balanced sound by enhancing low frequencies.
Setup and connectivity
At the back of the Sonos Beam Gen 2, you will find an HDMI eARC/ARC port to let you benefit from high-definition audio formats. There is also an Ethernet 10/100 port to give you an option for connecting to your router. USB, 3.5 mm, or AUX ports are not available in this model. Though you can connect to Wi-Fi with any 2.4 GHz 802.11/b/g/n broadcast-capable router.
Setting up Sonos Beam Gen 2 is easy. You just hook the soundbar to the TV using an included HDMI cable and proceed with the settings through the Sonos App. The app will provide step-by-step guidance so you won't go wrong with the settings. Additionally, you can connect streaming services or customize settings via this app. To make things easier, the soundbar syncs with your existing TV remote to let you control everything using a single device.
The soundbar works with Apple AirPlay 2, so you can stream audio directly from your iPhone, Mac, or iPad. If you have an Android-powered phone, the Sonos App gives access to hundreds of streaming services, so there will be plenty of audio content for you to enjoy.
Features and specs
The Sonos Beam 2 is a smart soundbar with a 40% faster chip than in the previous model. Thanks to this, this device gives you more capabilities and allows the entire listening experience to be configured in as much detail as possible. For instance, the Trueplay technology initiates a series of test tones to adapt to the speaker settings depending on a specific room layout.
Yet, the most prominent update to the Gen 2 model is the support of Dolby Atmos. Now you can definitely add some drive to your television. There is a Speech Enhancement feature available in the app that will let you always follow the story, even when characters whisper. With the Night Sound mode, you will reduce the intensity of loud sound effects and keep the TV down.
Being created with music in mind, the Sonos Beam 2 soundbar supports the highest-resolution formats, including Dolby Atmos Music. By the way, the other good news is that you can control music playback and other system settings using Siri, Alexa, and Google Assistant voice assistants.
Listening experience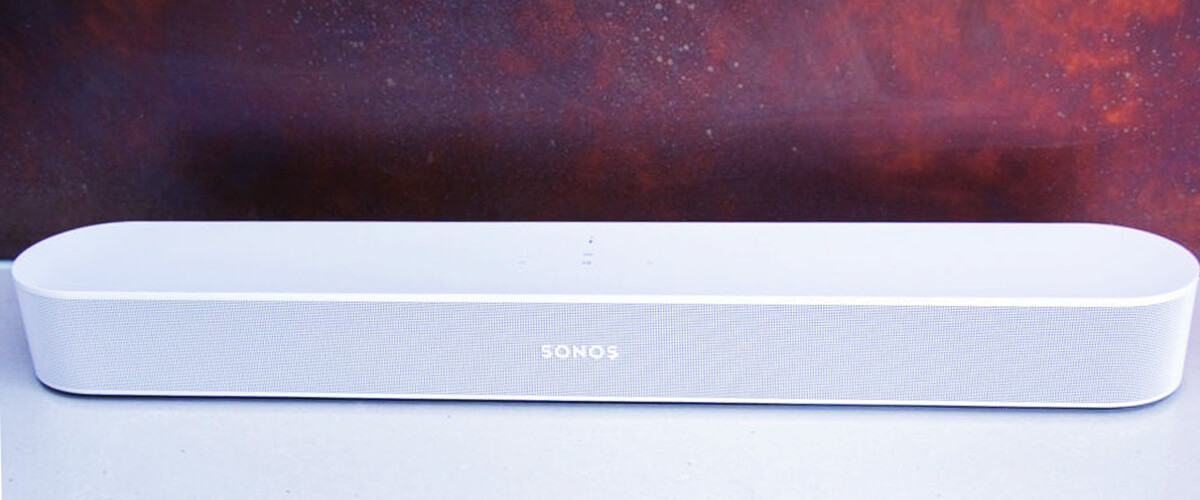 Let me put this straight right at the outset. This is a single-piece soundbar, and it doesn't come with a subwoofer or additional speakers (though you can buy them to extend your sound system). So, it doesn't deliver window-shaking bass or an overwhelming immersive experience.
In general, the sound is clear, balanced, and accurate. You can hear the effects of the surround sound, but they are unlikely to be the same as in a full audio system. The sound effects like explosions, gunfire, footsteps and others may lack the 3D range. Though I want to admit that the returned central channel in the soundbar prioritizes vocal clarity, making dialogs crisper and easier to comprehend.
The Gen 2 provides better depth and height than the original Beam, but it doesn't outperform Sonos Arc in these terms. But considering that this model is smaller than Arc, this fact comes as no surprise. The Beam 2 also does not get nearly as loud as Arc. I would say that its volume capacity is moderate, so you won't get the status of a "noisy" neighbor if you live in an apartment.
As for the music, Beam Gen 2 performs fine. It replicated clear and detailed vocals with accurate lead instruments. Tracks got a little bit of punch in the high-bass sections. Though there was a lack of rumble in the low bass, which may disappoint fans of hip-hop and EDM.
Key specs
Built-in channels: 5.1.
Amplification type: active.
Output power, W: N/A.
Separate speaker connections: no.
Wi-Fi/Bluetooth: yes/no.
Multichannel surround: Dolby Atmos.