The VIZIO M512a-H6 soundbar is a 5.1.2 setup that entered the market in 2021. It is a surround system made up of the main soundbar, two wired rear satellites, and a subwoofer. It inherited some of the high-end features from Vizio Elevate, premium speakers, yet remained on the affordable side of the price spectrum. I know that this sounds a bit vague, so in this VIZIO M512a-H6 review I am going to extend upon the performance of this soundbar. All information in this review is based on my personal experience.
Build and design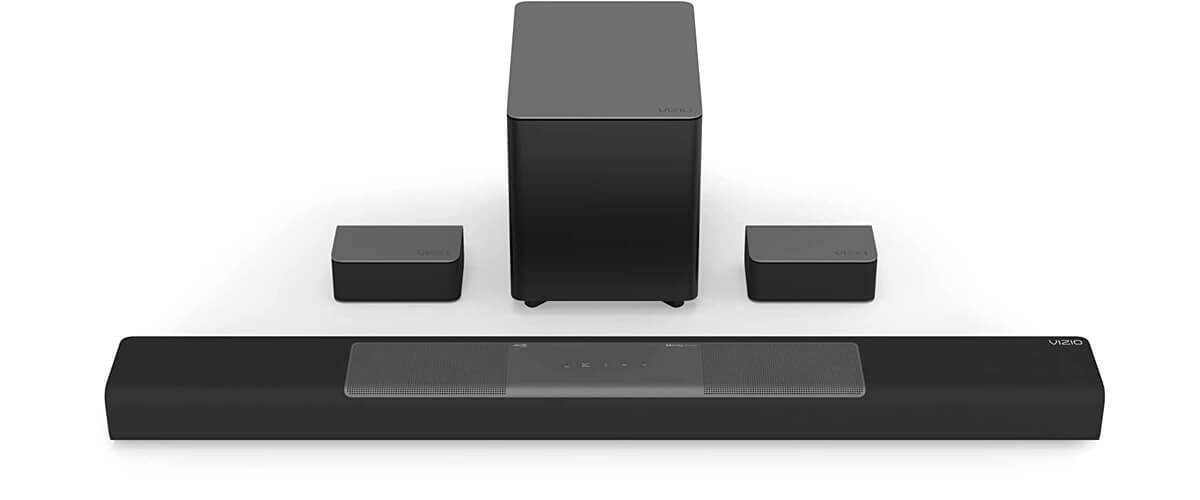 The soundbar is pretty much the same as other similar devices – it is 40 inches wide and 2.68 inches high. The satellites are 5.71 x 2.24 x 3.54 inches, while the sub measures 8.30 x 9.92 x 11.69 inches.
The main grille of the soundbar is made of fabric. It hides three sets of mid-drivers and tweeters. Another grille covering up-firing drivers is made of perforated plastic. Up-firing drivers are placed toward the center of the soundbar, which is hardly the perfect location. Nevertheless, they do a great job of filling the room with 3D surround sound by projecting audio signals off the ceiling.
There are 11 speakers in the VIZIO M512a-H6 sound system in total. Every speaker has its own woofers and tweeters for gaining fidelity across the whole sound spectrum.
You will find controls on the top of the VIZIO 5.1 2 soundbar. The number of controls is rather limited and includes power, volume, input, and Bluetooth. That's why you may want to consider using a remote control, which features a backlit screen that shows setup options.
Setup and connectivity
VIZIO M512a-H6 offers four different types of physical connectivity. On the back left side of the soundbar, you will find an HDMI in/out with eARC. There is also an optical digital audio connection and a USB port in this model. Additionally, as you look at the back right side, you'll see a standard 3.5 mm input along with an Aux VA input to hook a voice-enabled speaker. For a wireless connection, you are free to use Bluetooth. It's a pity that Wi-Fi connectivity is absent here and you lose an opportunity to use a Chromecast system.
Connecting VIZIO M512a-H6 to the TV is fairly simple. Just plug the soundbar into the TV using an HDMI, and you are all set. The wireless sub gets easily paired with a soundbar. Though note that you will need to connect speakers to the subwoofer with provided wires.
While there is nothing complicated in physically connecting all the devices, the real work begins when you adjust the sound to please your ears. The lack of calibration is not that critical, but it means that you've got to adjust driver levels manually. To get the most out of VIZIO M512a-H6, you can optimize the settings of the center channel, speakers, sub, and height channels.
Features and specs
The most prominent feature of VIZIO M Series M512a-H6 is the support for Dolby Atmos and DTS:X. Thanks to this, the sound is realistic and multi-dimensional.
As I already said, M512a-H6 has preset EQ modes to optimize gaming, music, movies, or TV content. Additionally, you can customize all the audio settings for a perfect sound every time using a remote. A dual stereo mode will shake your house. It distributes a stereo signal across all 11 high-performance speakers, elevating audio for maximum impact.
This soundbar doesn't have built-in voice assistant support, but there is an Aux VA input for letting you connect your voice assistant speaker. Or you can pair your devices via Bluetooth.
Listening experience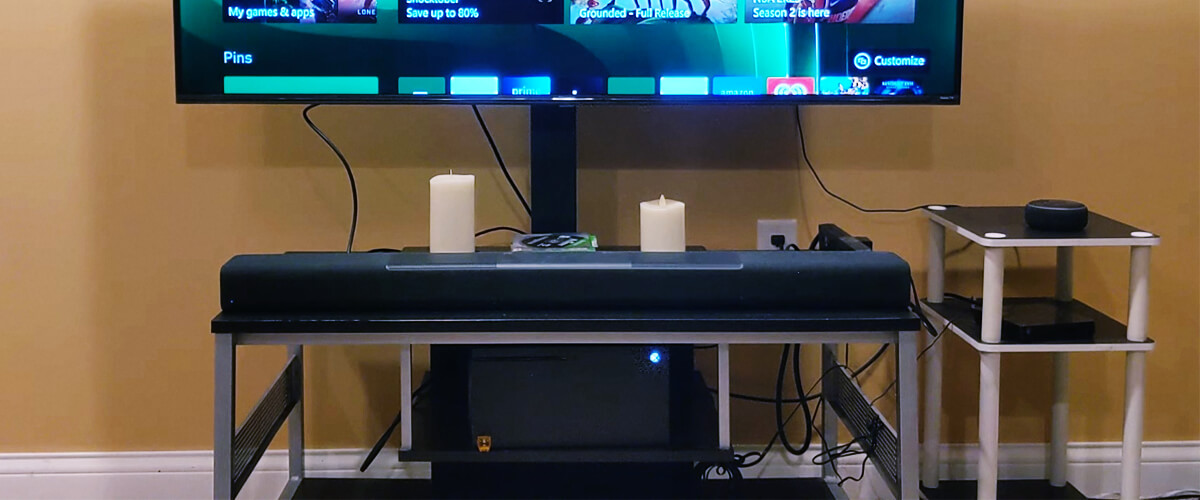 Here is my honest verdict – Vizio M512a-H6 is not as immersive as higher-end Dolby Atmos soundbars. But giving the credit to the price, I didn't expect much from this product. And that's natural.
What I want to stress is the amount of bass the wireless subwoofer delivers. It is space-shaking, yet it harmoniously integrates into the whole soundstage. When listening to music, the lows, mids, and highs are fine. The vocals and instruments sound bright and clear.
In movies, you can grasp every note of the bassline. The surround speakers give extended dimension and better immersion – I bet I heard how bullet casings fell to the floor with a more defined tinkle. Yet, this model doesn't reproduce the level of height you will find in more sophisticated soundbars.
The voice preset would have become a significant improvement to Vizio M512a-H6. It lacks this mode, in my opinion. I did not get enough clarity in some hard-to-decipher dialogs, so crisper and clearer voices will only improve the overall TV-watching experience with this soundbar set.
Key specs
Built-in channels: 5.1.2.
Amplification type: active.
Output power, W: N/A.
Separate speaker connections: yes.
Wi-Fi/Bluetooth: no/yes.
Multichannel surround: Dolby Atmos, DTS:X.