The modern world of technology is rapidly evolving and gives users a more realistic experience. Progress has not left behind avid gamers. And if you are here, it means you are looking for the best soundbar for gaming. After all, today's soundbars are compact, functional devices suitable for gaming on PCs or game consoles. They can give you a gaming experience completely different than what you would get with headphones. I've compiled a list of various representatives to find the finest one for you, whether you're looking for budget or VIP soundbars.
Our pick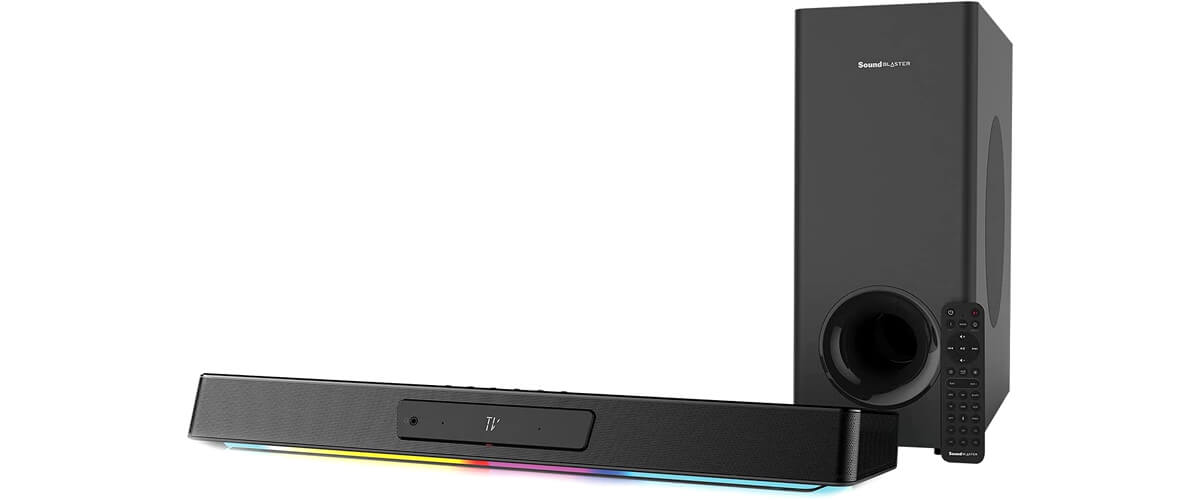 Creative Sound Blaster Katana V2
Best soundbar for gaming
The Creative Sound Blaster Katana V2 tri-amplified multi-channel gaming soundbar with super X-Fi technology deliver rich and flawless audio dynamics and strong bass reproduction with the improved tweeters and subwoofer.
Read the full review
.
Soundbar for gaming comparison table
Name
Built-in channels
Amplification type
Separate speaker connections
Wi-Fi/Bluetooth
Review
Creative Sound Blaster Katana V2

best overall

2.1
active
no
yes/no
Review
Razer Leviathan V2

also great

2.1
active
no
yes/no
Review
Sonos Arc
5.1
active
yes
yes/no
Review
The role of audio in gaming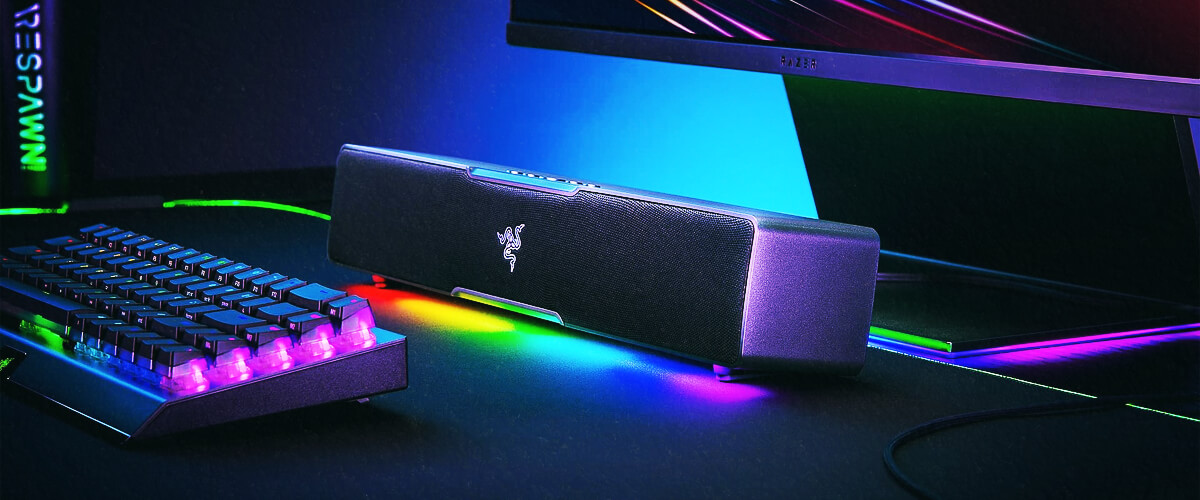 High-quality sound in gaming adds depth, realism, and immersion. It lets you hear that sneaky enemy approaching from behind or the subtle rustling of leaves as you explore a virtual forest. Clear audio cues enhance your reaction time and make you feel like you're truly in the game.
So, don't underestimate the power of top-notch audio gear or game soundtracks. They're the unsung heroes making your gaming adventure unforgettable.
Best soundbar for gaming reviews
Looking for a comprehensive Creative Sound Blaster Katana V2 review? Look no further! In this article, we will examine the sound experience and the advantages and disadvantages offered by this soundbar. The original iteration of the Creative Sound Blaster Katana garnered significant acclaim from the gaming community. While not flawless, the initial version had a few minor concerns that were diligently addressed in the latest offering: the Sound Blaster Katana V2. With this refreshed version, the creators promise a notable increase of over 60% in power compared to its predecessor. Additionally, they have introduced a new remote controller, a larger subwoofer, and expanded connectivity options.
Build and design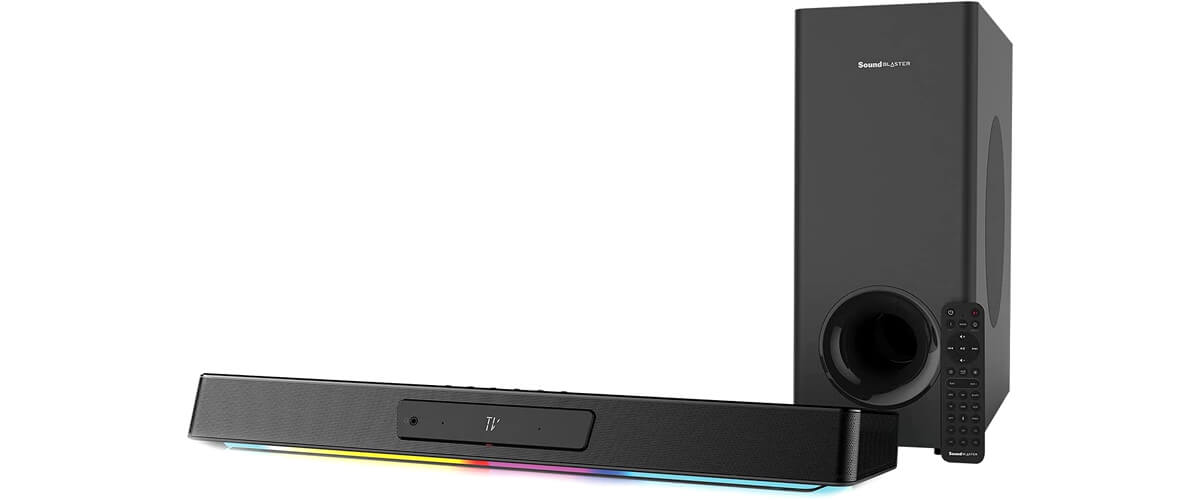 The Katana V2 boasts an understated, clean design with an all-black brushed metal finish, providing an appealing look without drawing excessive attention. The front panel of the soundbar features an LCD panel that displays the selected input. Additionally, it includes a convenient 3.5mm jack for headset connectivity. The remote control is designed with ergonomics in mind, ensuring comfortable use. It provides comprehensive control over all soundbar functions and allows for easy switching between modes. Moreover, it offers bass adjustment specifically for the subwoofer. For added convenience, six customizable buttons enable personalized settings. A striking RGB lightbar is positioned along the bottom section of the soundbar. Users have the freedom to customize the colors of the lightbar to match their preferences. Furthermore, a music sync mode synchronizes color changes with the audio being played. In addition, the Creative Katana V2 prioritizes audio quality with its new design for the fabric dome tweeter. It features two 3/4-inch tweeters, two 2.5-inch mid-range drivers, and a potent 6.5-inch subwoofer, resulting in precise sound reproduction. The subwoofer's ample cone guarantees deep bass without compromising the overall sound quality.
Setup and connectivity
The Katana V2 offers extensive customization options. It includes three acoustic modes (Movies, Music, and Gaming) and allows full EQ customization for personalized sound adjustments. The virtual 5.1 surround sound mode impressively projects sound for an immersive experience. Connectivity options are abundant on the Katana V2, featuring Bluetooth 5.0, HDMI ARC, USB-C, Aux in, Optical in, and SXFI out. HDMI ARC facilitates easy connection to TVs or projectors, while USB-C is ideal for gaming setups with monitors. Although the addition of Wi-Fi would have enhanced the soundbar's features, overall, the Katana V2 provides sufficient connectivity options.
Features and specs
The Sound Blaster Katana V2 soundbar is all about customization and convenience. With the Creative app, you can fine-tune its sound performance using Sound Blaster processing technologies and EQ settings. And if you have specific preferences for parties or gatherings, simply save your preferred sound mode, volume, and lighting color to a programmable button on the remote for easy access. Versatility is another key feature of the Sound Blaster Katana V2. It seamlessly works with various platforms, including game consoles like the PS5, PS4, Xbox Series X, and S, Nintendo Switch, as well as PC, Mac, and mobile devices.
Listening experience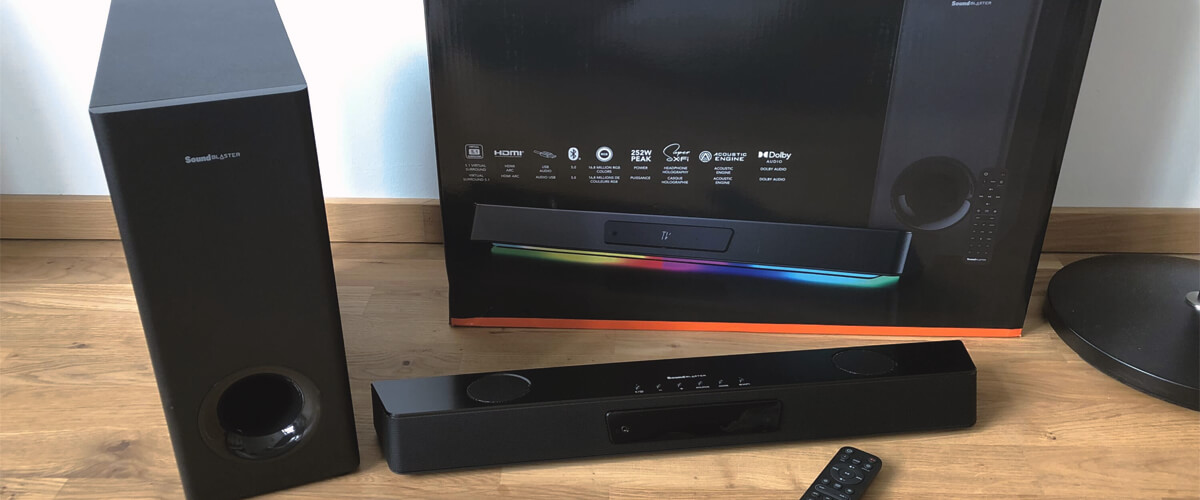 Having had the chance to try out the Katana V2 soundbar personally, I am ready to share my impressions of using this device. One aspect that stood out to me was the meticulously engineered triple-amp design of the Katana V2. The ability to individually control each midrange driver, tweeter, and subwoofer resulted in a commendable audio performance across all frequencies. The inclusion of new 3/4-inch fabric dome tweeter drivers enhanced the clarity of high-frequency sounds. The larger subwoofer driver delivered deep and resonant bass, adding a satisfying depth to the overall audio quality. The Katana V2's true 5.1 channel playback provided a heightened sense of immersion during my gaming sessions. The surround sound effect created a realistic audio environment, making me feel more engaged in my gaming adventures. I appreciated the Katana V2's substantial 68% increase in power output. This ensured accurate and high-resolution sound reproduction, even at higher volume levels. The certified Dolby Audio decoder in the Katana V2 added a cinematic touch to my living room. It enhanced the audio quality of movies and shows, creating an immersive experience that made me feel like I was in a theater.
Key specs
Built-in channels: 2.1.
Amplification type: active.
Output power, W: 66.
Separate speaker connections: no.
Wi-Fi/Bluetooth: yes/no.
Multichannel surround: no.
A soundbar with bright RGB color illumination and a separate subwoofer will give you quality 5.1-channel sound. This is the best gaming soundbar on my list because it is compatible with many gaming consoles, has many followers, and has a very nice price.
Pros
With Super X-Fi technology, you get multi-channel sound in your headphones.
Very sturdy metal housing.
Cons
Has some minor problems with the operation of the USB.
Razer Leviathan V2 – also great
Are you in search of a detailed Razer Leviathan V2 review? Honestly, I've wanted to test this model for a while, and I'm ready to share my impressions of this soundbar with you. Razer's Leviathan V2 soundbar, an updated version of their original Leviathan soundbar from 2014, features an updated design with RGB backlighting to enhance its visual appeal. The new design of the Leviathan V2 has made it slightly slimmer and a pound lighter than its previous iteration. Some physical buttons and ports, including the 3.5mm jack and optical audio input, have been removed in this updated version. Furthermore, unlike its predecessor, this soundbar supports THX spatial audio, a virtual surround sound technology featured in Razer's Kraken V3 headsets. Now, let's dive into the details and explore this model further.
Build and design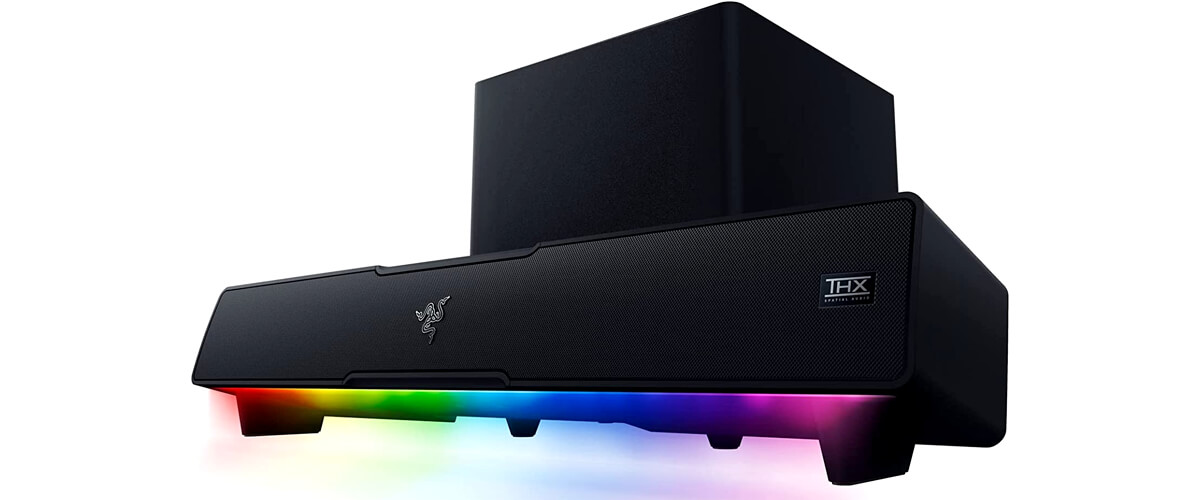 The Razer Leviathan V2 has a sleeker design compared to its predecessor, featuring a compact cube-shaped subwoofer. The soundbar measures 19.7 x 3.6 x 3.30 inches, while the subwoofer is 8.67 x 8.67 x 9.5 inches. Both units are lightweight, with the soundbar weighing around three pounds and the subwoofer approximately 6.5 pounds. The downward-facing RGB lighting now supports Chroma RGB for customizable colors. The controls are conveniently located on the top panel, offering easy access to functions like input selection and volume adjustment. Optional foot attachments are provided to raise the soundbar slightly. The paint quality on the front grill and the plastic material's tendency to attract fingerprints are minor drawbacks. During my personal experience with the Leviathan V2 soundbar, I observed an incident that highlighted potential concerns regarding the paint quality of the front grill. While closely examining the soundbar, I accidentally applied slight pressure, resulting in a small chip of paint flaking off and exposing the silver metal beneath. The issue is not critical, but please be careful.
Setup and connectivity
The Razer Leviathan V2 soundbar offers versatile connectivity options. It can be easily connected to your PC via USB Audio Input for a direct and high-quality audio experience. Additionally, it provides seamless wireless connectivity via Bluetooth, allowing you to pair it with your mobile phones and even the Nintendo Switch. During my personal testing endeavors, I found the connectivity of the Leviathan V2 to be hassle-free. It effortlessly connected to my PC and other devices, and the Bluetooth pairing process was quick and reliable.
Features and specs
Razer's Synapse 3 software is a powerful companion to the Leviathan V2 soundbar, allowing users to unlock its full potential and customize their audio experience. With the software, you can access a wide range of features and settings to fine-tune the soundbar according to your preferences. One of the key benefits of Synapse 3 is the ability to control and adjust the soundbar's presets, including THX, Gaming, Music, and Movies. Using the intuitive interface, you can easily switch between these presets or create your own custom profile. Gaming enthusiasts will appreciate the dedicated Gaming preset, optimizing the sound to create an immersive gaming environment. Music fans, on the other hand, can enjoy the Music preset's emphasis on rich tonal clarity and deep bass, delivering a dynamic audio performance. Meanwhile, the Movies preset provides a cinematic bass experience that brings favorite films to life. The software also provides a 10-band EQ, giving you precise control over the audio frequencies to achieve the desired sound signature.
Listening experience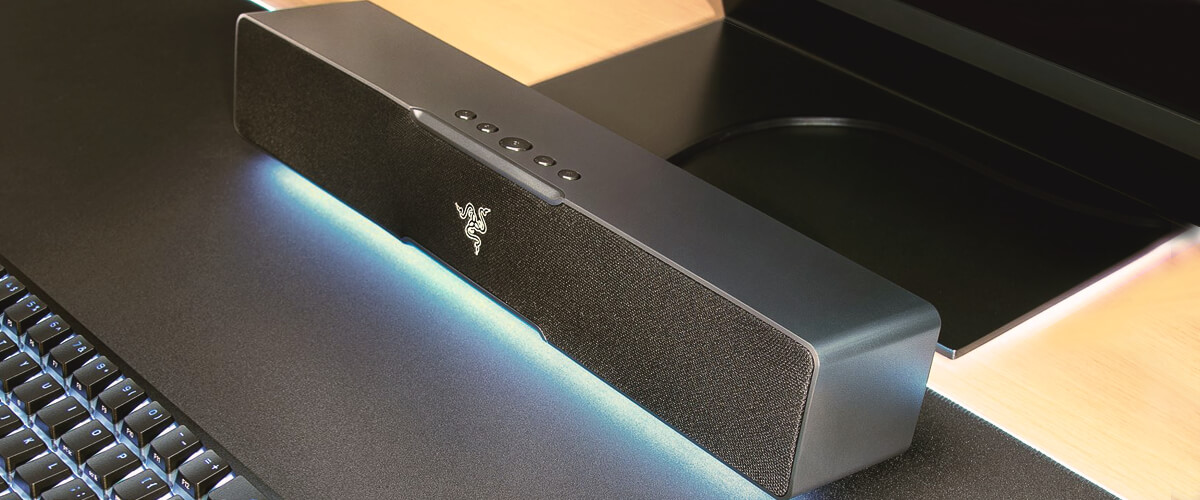 And as the cherry on top, let me unveil my firsthand impressions of the Leviathan V2 soundbar's sound quality. I had a fantastic opportunity to thoroughly test this soundbar in various scenarios, and I have valuable insights to offer. In games, the soundbar enhanced the environment with impactful explosions and clear footsteps. I particularly enjoyed playing the popular shooter game "Call of Duty: Warzone" with the Leviathan V2. The explosions were incredibly immersive, making me feel like I was right in the middle of intense firefights. The sound of footsteps was crisp and distinct, allowing me to locate enemies with precision. When listening to music, the Leviathan V2 reproduced a wide range of frequencies with clarity and depth. I enjoyed various genres, from energetic electronic beats like "Wake Me Up" by Avicii to soulful ballads like "Someone Like You" by Adele. The sound quality was exceptional, with rich bass and crystal-clear vocals that brought the songs to life. The customizable EQ settings allowed me to personalize the sound to suit different genres and styles. I could fine-tune the audio to emphasize the bass in electronic tracks or enhance the clarity in acoustic melodies. The Bluetooth connectivity was seamless, allowing me to effortlessly switch between devices and enjoy uninterrupted music streaming. Overall, I was satisfied with the sound quality of the Leviathan V2 soundbar. The immersive gaming experience and the ability to customize the sound to my preferences were standout features. Whether for gaming or music, the Leviathan V2 offered impressive performance, making it an excellent choice for audio enthusiasts and gamers alike.
Key specs
Built-in channels: 2.1.
Amplification type: active.
Output power, W: N/A.
Separate speaker connections: no.
Wi-Fi/Bluetooth: yes/no.
Multichannel surround: no.
Also, a great soundbar for PC and console gaming at the lowest price on my list. RGB lighting, deep bass, and compatibility with various game consoles as well as PC models, made Razer popular on par with more expensive models.
Pros
Excellent Bluetooth performance; pairing with all my devices with no problems.
Very clear listening dialogues.
Cons
The THX driver does not work properly, it sounds muffled.
No optical and 3.5mm inputs.
Sonos Arc
Back in 2020, Sonos made a statement on the soundbar market by releasing its flagship Arc. It replaced Playbar and also PlayBase. Later, it inspired the emergence of the Beam series, more compact bars with Atmos support.
Sonos Arc is a huge soundbar, both literally and figuratively. It is packed with multiple features that remain relevant these days. My Sonos Arc review will help you to get into all subtleties of this device, and besides, I will share my personal impression of this soundbar. And we will start with the appearance of this model.
Build and design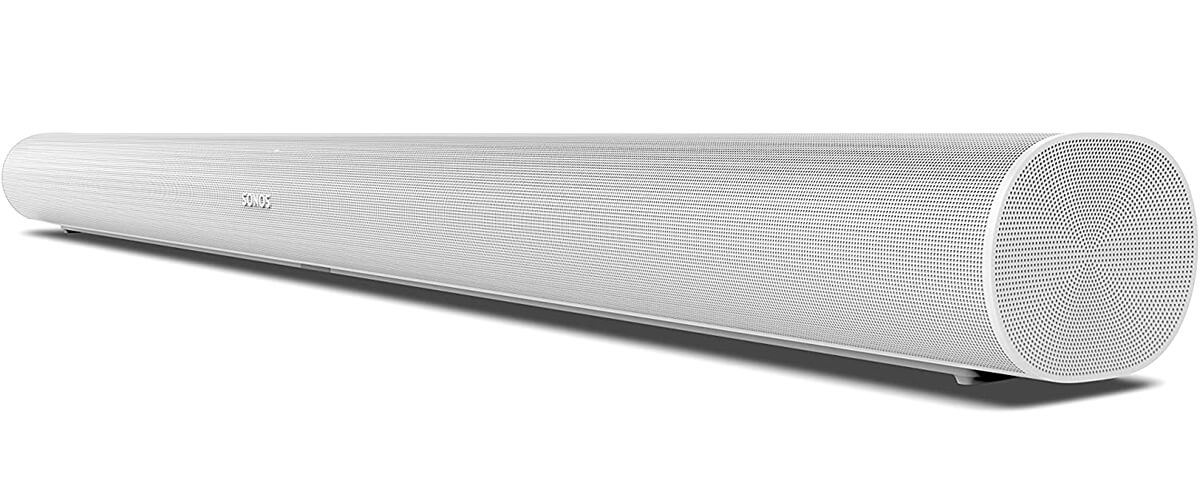 The Sonos Arc doesn't look like any other soundbar. As you look at it, you immediately realize that it wants to be noticed.
First, its size is in the spotlight. This soundbar is longer than the Sonos Beam and Beam Gen 2. It measures 45 x 4.5 x 3.4 inches (that's impressive!), though it weighs manageable 13.78 pounds. Even though it is large, you can easily transport it or set it up in any desired location.
Second, just look at its form. It is not rectangular like most soundbars. Its curved, elliptical shape makes the Arc model truly stand up among other Sonos soundbars.
When it comes to materials, Sonos Arc has the same plastic casing and perforated grille on the sides. There is a mesh between the grille and the top sides of the bar. This device is available in white and matte black variations. You will find the Sonos logo in the center along with a tiny LED indicating the microphone status. Volume and pause/play sensor controls are on the top of the Arc soundbar.
Setup and connectivity
To connect the Sonos Arc to the TV, use the HDMI eARC/ARC port with the HDMI cable. There is no optical port, but you can use the included Sonos optical audio adapter. To hardwire to your router, you may want to utilize the 10/100 Ethernet port. With the infrared receiver (IR), you will sync the soundbar with your TV remote for streamlined control.
Wireless connectivity is also available in the Arc bar. It works with any 2.4 GHz router, though 5 GHz is not supported. For wireless audio streaming, you may use the Apple AirPlay 2.
All soundbar adjustments are made via a Sonos S2 app. There is no way to go wrong with the setup as all the instructions are given in the app. Just follow the suggested steps, and here you go. Using the app, you can connect the streaming services and transmit audio content to the soundbar.
Tuning the sound is simple. With the Trueplay technology, you can be sure that the audio waves reach all walls, even in rooms with high ceilings or off-center soundbar placement. The degree of calibration may surprise audiophiles, for sure. I like that the bar automatically adjusts the playback based on the audio input and the acoustic room profile.
Features and specs
In my opinion, Dolby Atmos support is the most important feature of this model. The surround sound will immediately bring your movie viewing to a whole new level. But I think you realize this yourself.
As you turn on Speech Enhancement in the Sonos app, you will get greater clarity for character dialogs. When they whisper or the action intensifies, this feature ensures you will grasp every word. The Night Sound mode is also available. It tempers loud effects and makes them less prominent.
With the Sonos voice control, you can play music and control your system hands-free. Amazon Alexa and Google Assistant are also here to let you manage your smart home devices, set timers, check the news, and more.
Listening experience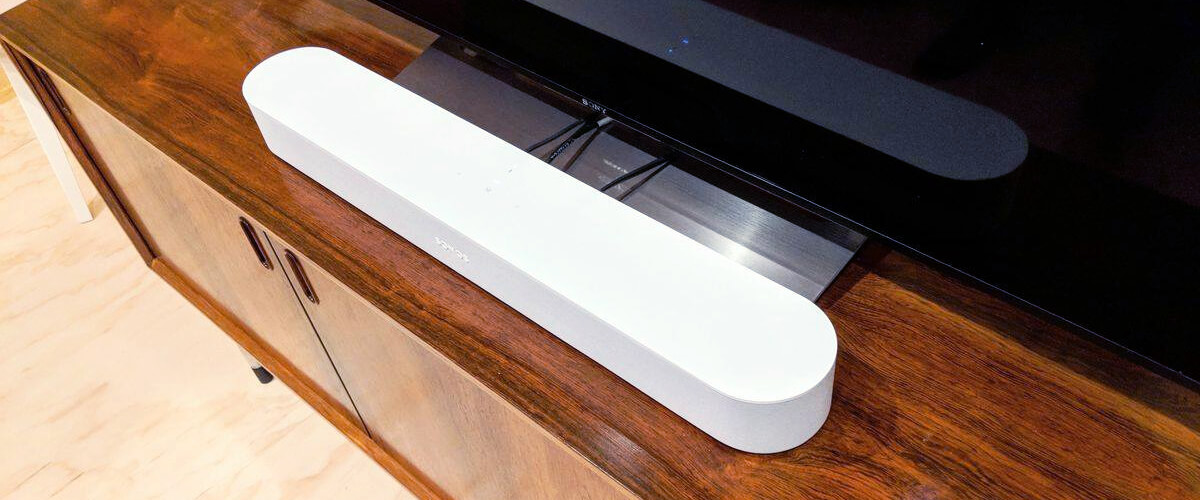 Even though the Arc soundbar is just one element of the whole Sonos system (you can improve it with a sub and two speakers), it proved to deliver a decent sound quality.
This model offers an even sound, especially in the mids. All thanks to the room correction feature. The vocals and lead instruments are detailed and crisp, though there is a touch of extra brightness in the treble. Naturally, for a standalone soundbar, you don't get extended low bass. You can adjust the bass, but do not hope these settings will change the low-frequency extension. For more rumble, you need a separate sub.
The Arc's stereo sound is great, and, in my opinion, it is much better than the Sonos Beam soundbar. The side-firing speakers make you feel that the sound is larger than the soundbar itself. When listening to Atmos content, the soundstage feels wider and diffused. However, the sound objects come from the front of the TV rather than from overhead. So, the sound of a helicopter flying above doesn't seem to be coming from overhead. But again, for a standalone bar, the Sonos Arc does a great job at delivering a tolerable surround sound.
Key specs
Built-in channels: 5.1.
Amplification type: active.
Output power, W: N/A.
Separate speaker connections: yes.
Wi-Fi/Bluetooth: yes/no.
Multichannel surround: Dolby Atmos.
Premium quality with the Sonos Arc gives you Dolby Atmos, Enhanced Trueplay, extensive connectivity, voice assistant control, and more. But you'll also have to splurge for a subwoofer. Nevertheless, this is the best PC soundbar for those not used to saving money.
Pros
It works right out of the box.
The automatic tuning is great; no need to manually adjust the level on all the speakers.
Good Atmos experience and very clear treble.
Cons
Bulky compared to other devices.
Bose TV Speaker
In this Bose TV soundbar review, I will tell you about this relatively simple plug-in speaker. In addition to good sound quality, this device is easy to set up and integrate into your home theater system.
This model was introduced in 2020. It may lack more advanced features you will find in Bose's premium offerings, but what it has is more than enough for upgrading your TV's audio to a decent 2-channel stereo. So, take a few minutes to see if this soundbar would be a good choice for you or whether you need to look for another option.
Build and design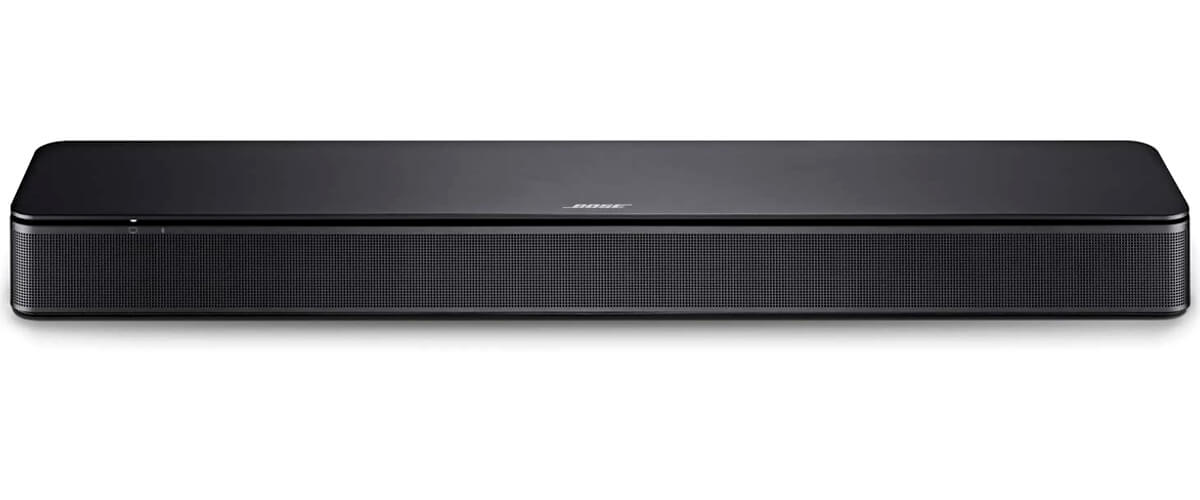 If you are a fan of minimalistic design concepts, you will love the Bose TV speaker. Thanks to a smooth top surface and perforated metal grille, it has a classy vibe. In addition, the casing is made of matte-black plastic, which gives the speaker a restrained yet quite sophisticated look.
As for the size, this soundbar is remarkably small. It measures 2.2 x 23.4 x 4 inches and weighs 4.3 lbs, so it easily fits between the legs of a 55-inch TV to save space. The device has an optimal height, so it won't obscure your TV.
Setup and connectivity
Setting up this soundbar won't be a hassle at all. First, you hook the speaker to the TV via the optical cable or your own HDMI. Then, you plug the speaker into the power outlet, and that's all. After that, the device is ready to use.
As for the availability of ports, you will find HDMI ARC, optical, and AUX inputs. There is a USB port, but it is used for service only. If you want to experience more bass, there is a wired bass module.
You can use one of these ports without the need to manually pick the corresponding input in the settings. However, the good news is that you can employ more than one port to connect different audio devices. The system will detect the first active one and set it as a default input.
If you want to do away with cords, you are free to use Bluetooth. Or you can utilize it as an additional device for other Bose speakers using the Bose Music app.
This soundbar seamlessly works with Roku TV over HDMI. The setup is fairly simple. It's also great that the speaker is compatible with the Roku TV remote.
Features and specs
The Bose television soundbar is a fairly simple device that handles basic tasks well and will not overload you with advanced functionality that you may not need. Nevertheless, this is what makes this speaker easy to use and keeps its price.
With the 36W peak power and 50/60Hz frequency response, you will obtain a rich sound when watching a movie, listening to music, or playing a video game. If you want to get more bass, just hit the Bass button on the remote.
The Dialogue feature is really handy. As you turn it on, the speaker will analyze your watching content. Then, it will elevate vocals to let you hear more clearly and deliver enhanced speech and pronunciation. This capability is especially helpful for podcasts or TV shows.
Unfortunately, there is no Bose app to control the TV speaker. All the configurations are made with the remote. It isn't backlit, but the volume and mute buttons are easy to identify, even in the dark. With the remote, you can activate the Bluetooth mode for pairing the soundbar with other devices, adjust the amount of bass, or switch to a Dialogue mode.
Listening experience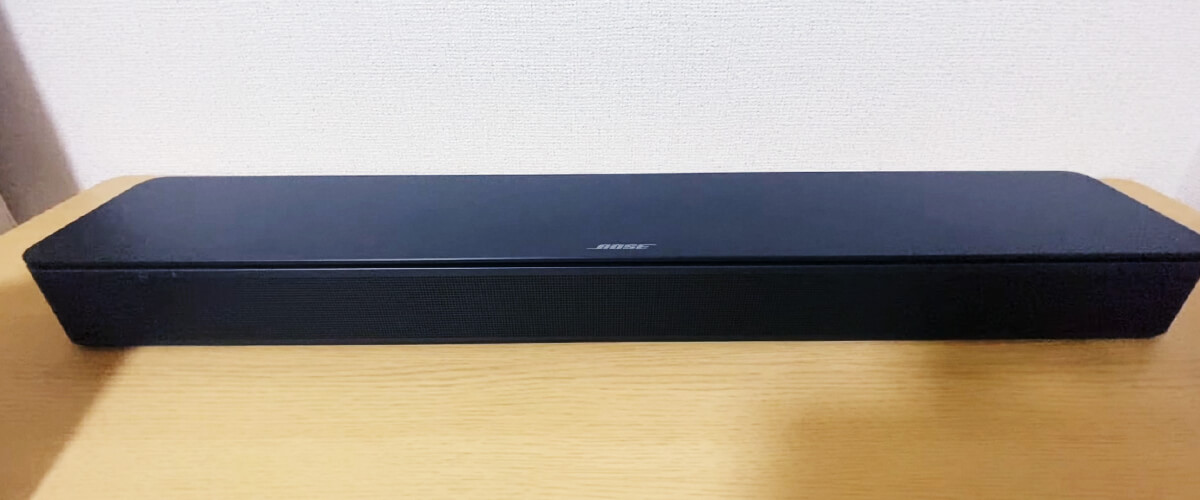 Considering the size of the Bose TV Speaker, you do not expect much from it. But I was really surprised by what it delivers. At its full sound breadth, it can fill up an average living room with a rich sound. However, it may not be enough for a larger or open space. Yet some thumping and compression artifacts are present at the highest volume, especially in the bass range.
The stereo soundstage performance is just fine. It doesn't sound much focused, so movie sound effects are perceived as coming from diffused areas rather than a specific, accurate location.
As for the music, the speaker has a decent frequency response. It is balanced, especially in the mids. The bass is extremely rich, so the default settings are enough for an average listening experience. If you want more, you go to the Bass mode and get a touch of the extra boom. Though, it is better to add a separate sub if you listen to bass-heavy genres for advanced bass reproduction.
Key specs
Built-in channels: 3.0.
Amplification type: active.
Output power, W: 100.
Separate speaker connections: yes.
Wi-Fi/Bluetooth: yes/yes.
Multichannel surround: Dolby Atmos.
This soundbar's compact design, amazing dialogue playback, and wide connectivity make it ideal for a gaming setup. The price is quite low, but there is no subwoofer included.
Pros
The dialogue enhancement feature works very well.
Easy installation on smart TV and PC.
Cons
There is a lag in the controller when playing video games when connected to the HDMI ARC.
Sonos Beam Gen 2
The Sonos Beam Gen 2 is an improved version of the previous soundbar model - the Sonos Beam. This device shares the same compact design as its predecessor but now comes with the support of Dolby Atmos. Yet, this is not the only novelty in this soundbar. So, keep reading my Sonos Beam Gen 2 review to get to know what makes this item superior to its previous model.
Build and design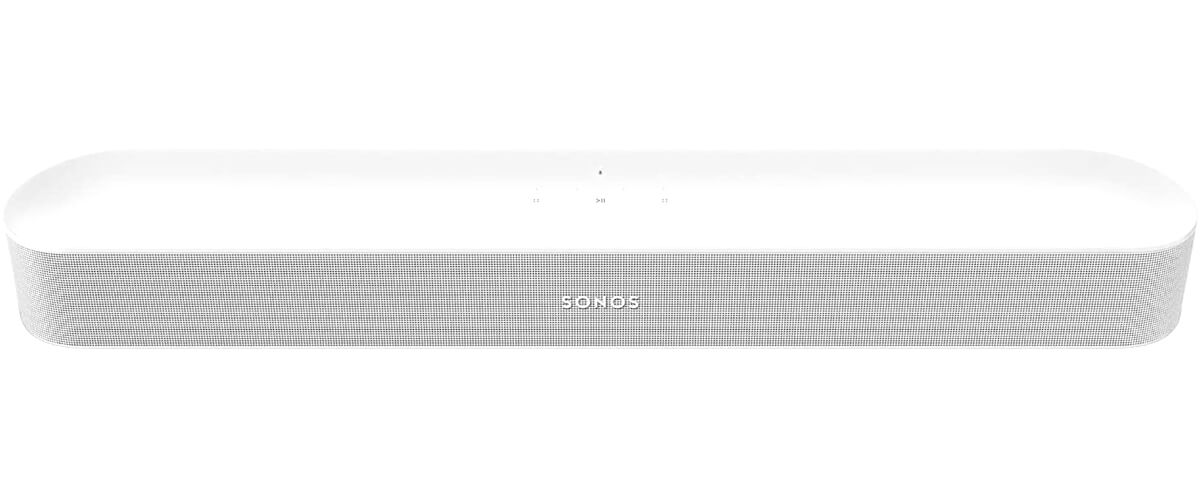 The sleek design is one of the key parameters of the Sonos Beam Gen 2. If you are familiar with Sonos products, then the fact that Beam Gen 2 blends Sonos Arc and the original Sonos Beam will give you a hint of how it looks. The soundbar maintains an elongated shape with a slightly convex top of the Beam and gets a perforated polycarbonate grille from the Arc. There are volume and play/pause controls on the top.
The Beam Gen 2 soundbar is compact - it measures 45 x 4.5 x 3.4 inches, so it is suitable for smaller entertainment spaces as it will easily fit 50-inch TVs or smaller. It comes in two casing options - white and black to accompany your interior.
Under the compact housing, this soundbar conceals five class-D amps that power a central tweeter and four elliptical mid-woofers. There are also three passive radiators to deliver a balanced sound by enhancing low frequencies.
Setup and connectivity
At the back of the Sonos Beam Gen 2, you will find an HDMI eARC/ARC port to let you benefit from high-definition audio formats. There is also an Ethernet 10/100 port to give you an option for connecting to your router. USB, 3.5 mm, or AUX ports are not available in this model. Though you can connect to Wi-Fi with any 2.4 GHz 802.11/b/g/n broadcast-capable router.
Setting up Sonos Beam Gen 2 is easy. You just hook the soundbar to the TV using an included HDMI cable and proceed with the settings through the Sonos App. The app will provide step-by-step guidance so you won't go wrong with the settings. Additionally, you can connect streaming services or customize settings via this app. To make things easier, the soundbar syncs with your existing TV remote to let you control everything using a single device.
The soundbar works with Apple AirPlay 2, so you can stream audio directly from your iPhone, Mac, or iPad. If you have an Android-powered phone, the Sonos App gives access to hundreds of streaming services, so there will be plenty of audio content for you to enjoy.
Features and specs
The Sonos Beam 2 is a smart soundbar with a 40% faster chip than in the previous model. Thanks to this, this device gives you more capabilities and allows the entire listening experience to be configured in as much detail as possible. For instance, the Trueplay technology initiates a series of test tones to adapt to the speaker settings depending on a specific room layout.
Yet, the most prominent update to the Gen 2 model is the support of Dolby Atmos. Now you can definitely add some drive to your television. There is a Speech Enhancement feature available in the app that will let you always follow the story, even when characters whisper. With the Night Sound mode, you will reduce the intensity of loud sound effects and keep the TV down.
Being created with music in mind, the Sonos Beam 2 soundbar supports the highest-resolution formats, including Dolby Atmos Music. By the way, the other good news is that you can control music playback and other system settings using Siri, Alexa, and Google Assistant voice assistants.
Listening experience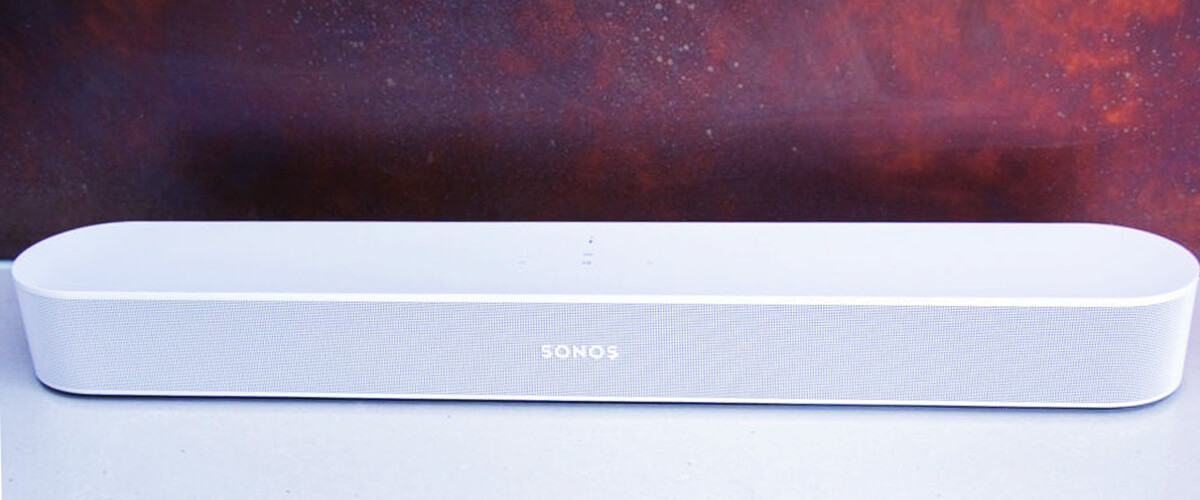 Let me put this straight right at the outset. This is a single-piece soundbar, and it doesn't come with a subwoofer or additional speakers (though you can buy them to extend your sound system). So, it doesn't deliver window-shaking bass or an overwhelming immersive experience.
In general, the sound is clear, balanced, and accurate. You can hear the effects of the surround sound, but they are unlikely to be the same as in a full audio system. The sound effects like explosions, gunfire, footsteps and others may lack the 3D range. Though I want to admit that the returned central channel in the soundbar prioritizes vocal clarity, making dialogs crisper and easier to comprehend.
The Gen 2 provides better depth and height than the original Beam, but it doesn't outperform Sonos Arc in these terms. But considering that this model is smaller than Arc, this fact comes as no surprise. The Beam 2 also does not get nearly as loud as Arc. I would say that its volume capacity is moderate, so you won't get the status of a "noisy" neighbor if you live in an apartment.
As for the music, Beam Gen 2 performs fine. It replicated clear and detailed vocals with accurate lead instruments. Tracks got a little bit of punch in the high-bass sections. Though there was a lack of rumble in the low bass, which may disappoint fans of hip-hop and EDM.
Key specs
Built-in channels: 5.1.
Amplification type: active.
Output power, W: N/A.
Separate speaker connections: no.
Wi-Fi/Bluetooth: yes/no.
Multichannel surround: Dolby Atmos.
The mid-range representative of my selection has gained popularity for its combination of the benefits of expensive devices and simplicity. It is great for gaming, Dolby Atmos, AirPlay 2, and voice assistants, but not compatible with all devices.
Pros
Works great with Apple.
It makes a rich sound even without a subwoofer.
Cons
No Bluetooth like other less expensive models.
The app is a little clunky (for example, the speech enhancement feature is not labeled, and you must look for it).
What you should pay attention to when choosing a soundbar for gaming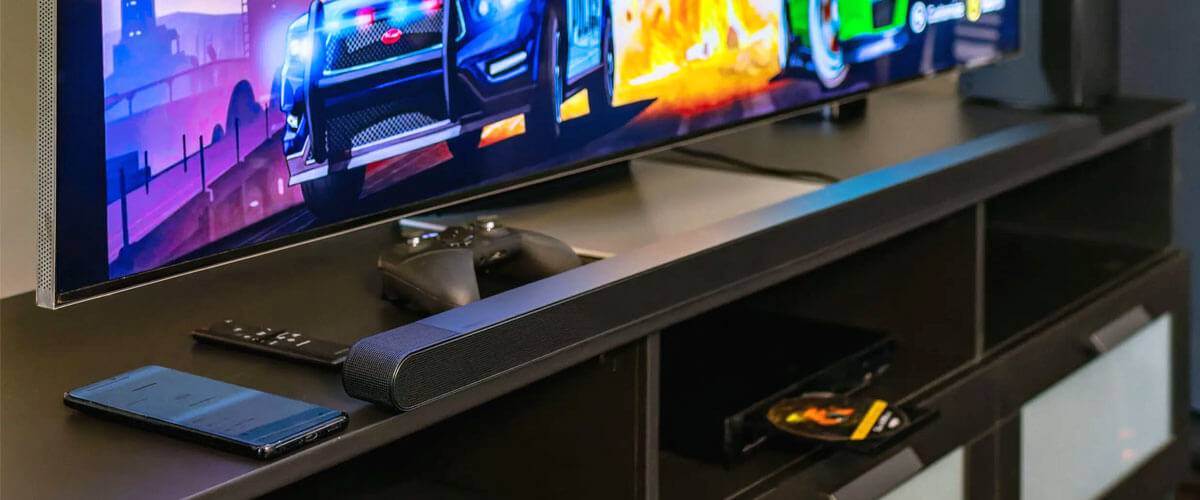 Audio quality and surround sound capabilities
The separation of bass, midrange, and treble must be clear, the dialogues are well audible, and the bass is deep. And if you want to hear sound from where it's meant to come from (whether it's your partner behind you or a helicopter overhead), I'd recommend soundbars with 7.1 sound that support Dolby Atmos or DTS:X. But even with them, you will not get the full sound as in traditional home theaters. Nevertheless, any soundbar will enhance your playing experience relative to conventional speakers or headphones.
Some soundbar models have built-in subwoofers, while others come with separate ones. Regardless of which you choose, the overall soundscape should satisfy your needs.
Connectivity options
This is probably one of the most important aspects of looking for a soundbar that will last a long time. It should provide connectivity for all your home devices, especially if you use it for more than just gaming. I recommend paying attention to the capabilities of the HDMI ports. Support for ARC or eARC is a must nowadays because this way, you can get better quality audio and video. Also, pay attention to other features: connectors for old equipment (optical, coaxial) and wireless connectivity (Bluetooth and Wi-Fi). This will greatly expand the functionality of your system.
Design and aesthetics
For me, the visual perception of a home system is one of the important factors, but I think it does not apply to all of us. For aesthetes like me, I would recommend paying attention to the soundbar size (it should fit where you want it to be) and to some additional features (such as backlighting).
Compatibility with gaming consoles
When it comes to a soundbar for gaming, all components of your setup must be compatible, as not all soundbars can work well with all gaming systems. Do your research well, and take a detailed look at the specifications of the soundbar. I would also recommend reading user reviews.
Low latency and gaming mode
Latency, in simple terms, is the annoying delay between your action (say, firing a virtual weapon) and seeing/hearing the result on your screen and headphones.
When selecting a gaming soundbar, prioritize low latency. It's the key to achieving optimal synchronization between audio and video, creating a mind-blowingly immersive gaming experience. Additionally, look for soundbars with a dedicated gaming mode. This feature optimizes the soundbar's settings for gaming scenarios, reducing potential delays.
FAQ
What is the advantage of using a gaming soundbar over regular speakers for gaming
Gaming soundbars offer several advantages over regular speakers for gaming. They are designed with gamers in mind, often featuring low latency and gaming modes that optimize audio for an enhanced gaming experience. Gaming soundbars typically provide clearer and more directional sound, allowing you to pinpoint in-game sounds like footsteps or gunfire more accurately. Some models also offer virtual surround sound, adding depth to your gaming audio.
Can I use a gaming soundbar for other entertainment?
Absolutely! While gaming soundbars are optimized for gaming, they are versatile enough to enhance your overall entertainment experience. You can use them for watching movies, streaming music, or even as a general sound system for your TV. Many gaming soundbars feature multiple audio input options, including Bluetooth, HDMI, and optical connections, making them compatible with various devices. So, whether you're gaming, binge-watching your favorite series, or hosting a movie night, a gaming soundbar can deliver impressive audio quality.
Can I connect multiple gaming soundbars for a more immersive audio experience?
Generally, connecting multiple gaming soundbars isn't a common practice for achieving immersive audio. If you're looking for a truly immersive audio experience, consider investing in home theater systems with surround sound capabilities. They often include multiple speakers strategically placed around the room to create a 3D sound field, delivering a more immersive and cinematic experience compared to using multiple gaming soundbars. However, for most gamers, a high-quality gaming soundbar with virtual surround capabilities should suffice for an impressive gaming experience.